How To Crochet an Afghan in 2 Days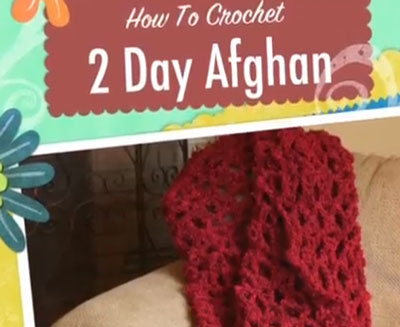 Yes… I know… it does seem impossible but it's really true. I whipped up this afghan in just 2 days. The yarn choice and size of the crochet hook has everything to do with my speed.
I used Red Heart's Light and Lofty Yarn and a large crochet hook. I completed a cross-stitch that I learned from a tiny doily motif where I realized I could do it in an afghan.
In the demonstration below, I will show you the stitches I did to complete this afghan.
Materials
Size N Crochet Hook
6 Balls of Red Heart's Light & Lofty Yarn.
See video demonstration for stitch counts and more information about this fabulous project.
Video Demonstration
Pattern Suggestions
More Crochet Afghan Pattern Ideas
1

2

3

4

5

6

7

8

9

10

11

12

13

14

15

16

17

18

19

20

21

22

23

24

25

26

27

28

29

30

31

32

33

34

35

36

37

38

39

40

41

42

43

44

45

46

47

48

49

50

51

52

53

54

55

56

57

58

59

60

61

62

63
©2011 The Crochet Crowd, Michael Sellick