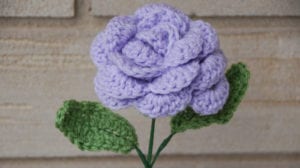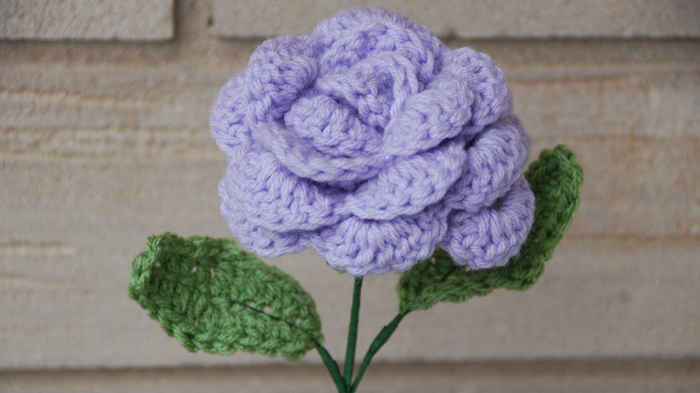 Treat Your Mom Right on Mother's Day
Mother's Day is right around the corner in a couple of weeks.  Have you thought about crocheting something special to treat your mom?  I've put together a list of ideas that will help even the busiest person to find the time!
As you might remember, my dear mom has been gone for 10 years now and it has hit me a bit emotionally this year.  I crocheted this rose in her favourite shade of purple and I'm placing on my memory shelf in my living room.  It makes me smile and think of her when I walk by.
What will you by crocheting for that special lady in your life?
Crooked Coffee Cozy – Tuck in a gift card to your mom's favourite coffee spot and you have a great gift set.
Dumpling Kitty – I love this chubby little amigurumi cat.  If mom has a cat, make one in matching colours.
Virus Shawl – This shawl is super popular and I have seen some amazing colours for this one.  This is a link to the video tutorial.
Sachets of Love – Quick little pouches to hold any small treasures.
Chunky Basket – This can be used in so many ways.  Fill it with your mom's favourite lotions and soaps.  This could also be made even more special with your own T-Shirt yarn.
Crochet Bag – This colourful bag would be a fun way to use up your scraps.
Bow Cuff Slipper Boots – These are adorable and also come in sizes from Toddler to Adult, so everyone can have a matching pair.
Kitchen Kolors Trivet – This one has been around for a while is always popular.  The colour options are endless.
Picnic Basket Shawl – Just as the name implies, this is a great take-along piece that will roll up nicely to fit in your bag.  I would splurge on nice yarn for this one myself.
Button Earrings – Match these to a nice shawl for a whole set.
Storm Clouds Pillow – This features an envelope style closure to make washing the pillow cover easy.
Moroccan Tote – If you love the look of tapestry, you will not want to miss this one.
Summer Sprigs Lace Scarf – A stunning piece for those cool summer evenings.  Mom will treasure this one.
Ahh, Spa Slippers – For a really special treat, include a gift card for a pedicure with these.
Parisian Chique Fat Bottom Bag – I made one of these last years for a special friend and she really loved it.  You can really embellish it up.
Nubbie Scrubbies – Nice little facecloth for another spa basket idea.
Rose Bouquet – This pattern has a nice tutorial to explain how to wire each flower and use floral tape.
More Crochet Collections to Enjoy