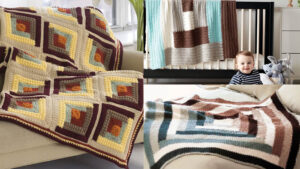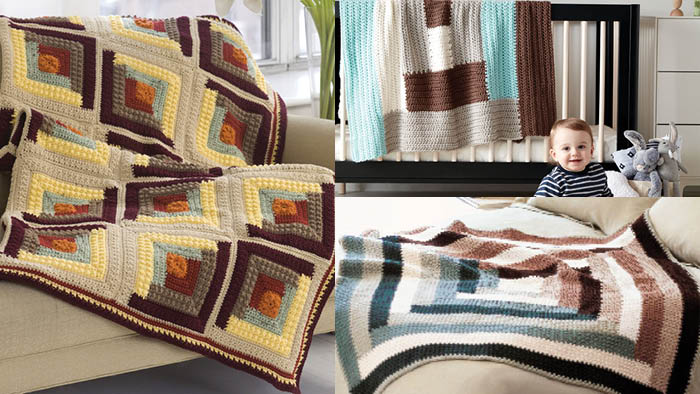 The Crochet Log Cabin concept builds onto each other either from a mitered or straight across. Each time a section is added, the new edge will get bigger.
Like a game of building popsicle stick houses where each stick has its purpose, each section here is needed to build. Therefore, you can never skip ahead.
I located a wack of Log Cabin Crochet Patterns for you to enjoy. I have my eyes on the Autumn Log Cabin for a future tutorial. Let me know in the comments if you are interested.
---
Crochet Autumn Log Cabin Afghan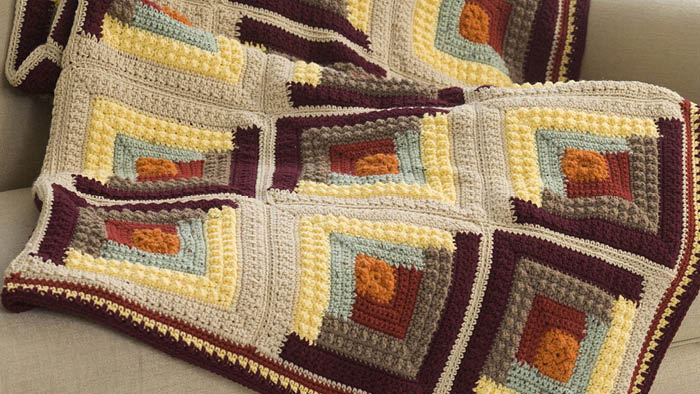 This incredible afghan has me in awe of its texture and the way the colouring can puzzle together. This leaves room for interpretation as you can turn the squares to form things like diamonds too. This is the Autumn Log Cabin Afghan.
The colouring for me is really appealing. It's the largest log cabin design of the choices I have for you today.

Worksheet -10 Pages
For Both the Autumn and Comfort Log Cabin Blankets.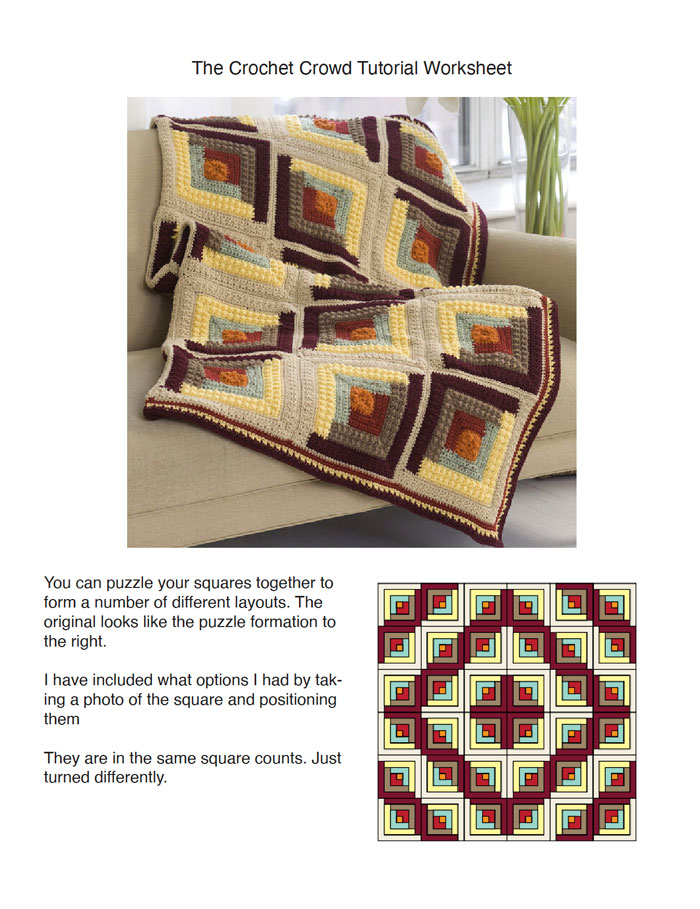 Tutorial
---
Crochet Modern Granny Log Cabin Quilt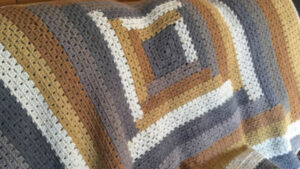 Besides crocheted blankets, I love the style of a beautiful, handmade quilt, so why not a Crochet Log Cabin Quilt Style Modern Granny Afghan.  Over the years, I have done a few simple quilts, so I totally appreciate the workmanship that goes into a really creative one.  I am currently knitting a log cabin quilt style blanket using up scraps from completed projects.  So I got to thinking that why can't I crochet something similar.

---
Crochet Baby Log Cabin Nursery Blanket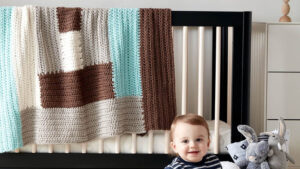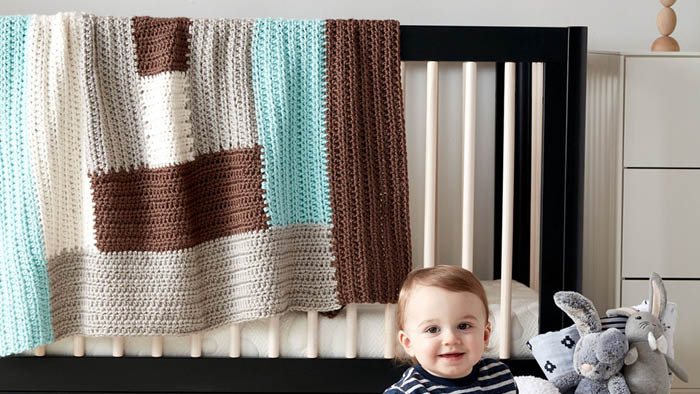 This is a modern trendy look to this Baby Log Cabin Blanket by Yarnspirations.
Using an 8 mm or L size crochet hook and Bernat Softee Baby Chunky Yarn, this project will work up quickly as it's using half double crochets.
This is easy to follow the pattern that relies on you to crochet in strategic steps to build up the blanket. It's really not difficult at all. I will show you things to watch for in the tutorial below.

Tutorial
---
Crochet Comfort Log Cabin Throw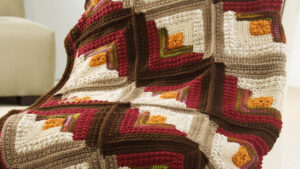 The Crochet Comfort Log Cabin is almost identical to the big one at the top of this article. It's smaller as there are fewer squares and there is a slightly different border
As you can see in this design, the difference of using fewer squares also plays a factor in the shapes and designs you can get when the puzzling of the squares happens.

Tutorial
---
Crochet Cool Log Cabin Throw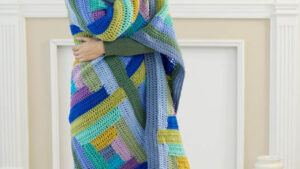 Probably one of the easiest of the lot is this Crochet Cool Log Cabin Throw.
It's just using double crochet to do the strips that build onto each other. I would say to be careful when working the sides of the stripes with double crochet as it can be a hit or miss if you are doing it justice. It's easy to screw it up if you are rushing but if you take your time on the side edging of a strip, you would be okay.

---
Crochet Mod Log Cabin Throw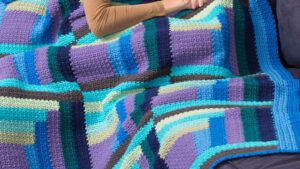 This version of the Crochet Mod Log Cabin Throw is using the linen (granite or moss) stitch.
This version is unique if you look at the diagram inside the pattern. There appear to be four strips out of place but that's what's making it appealing.
Definitely open the pattern to take a peek for yourself.

---
Crochet Modern Log Cabin Afghan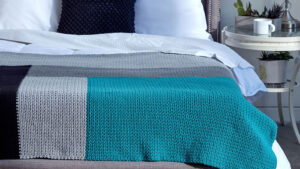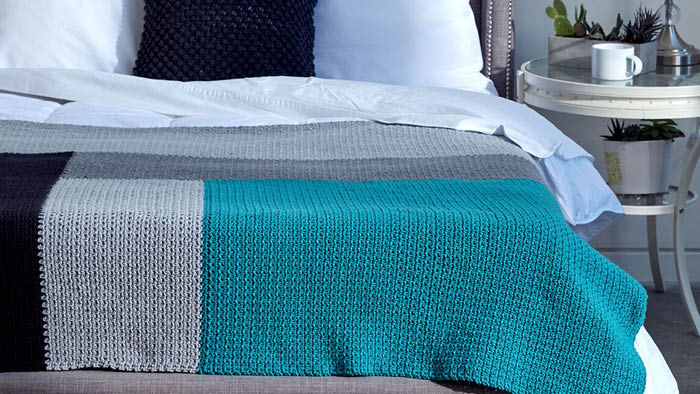 Introducing the Modern Log Cabin Afghan by Yarnspirations. For me, I have never done this concept before. I've seen it for years but this is my first attempt at doing such a pattern. I have to say, I'm hooked on the concept.
The concept is easy as you start off with one section and from there, each new section grows directly to the next. So essentially, there's no sewing involved.
The stitchwork is simple, moss stitch or granite stitch is used throughout. The trick to this particular project is to identify and mark the 'right side' of the project right from the beginning. This will help you when you need to move onto other sections of this project. There is a repeat row of 2 and 3 throughout. So when you mark the 'right side', you can start the next section without any complications.


Tutorial
---
Crochet Quilt-Inspired Throw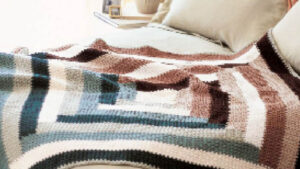 This Crochet Quilt-Inspired Throw is also using the linen (moss or granite) stitch for the concept. It's showcasing a colour arrangement of almost like a shadow on one side.
Simply using Red Heart Super Saver, you could come up with your own colour arrangements.

More Blankets