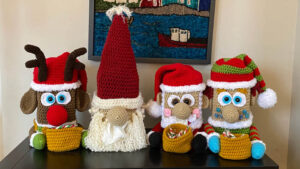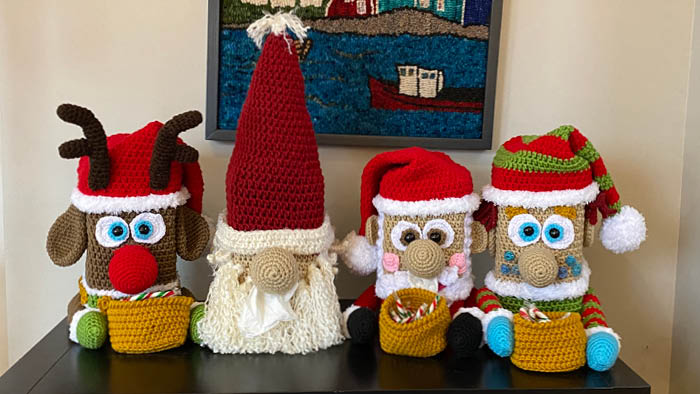 Gnome Tissue Box The Crochet Blowmeo Tissue Box Gnome is the 4th edition of the Christmas Tissue Box Covers.
These compliments the Crochet Santa, Reindeer and Elf Sniffle Stations from 2020 that we did.
The gnome is fitting the same size box and parts of the gnome are carried from the original patterns so they remain a set. For example, the math for the tissue box cover is the same but the colour is changed out.
Other similarities are the hair is the same hair from the elf. The hat is the same but longer and filled with polyfil to stand straight up. It's longer so it can slide down to the nose of the character.
We have tutorials available on the sniffle stations but I have listed the ones you will need. Please note to keep an eye on the instructions as there are some variations. 
---
Patterns
Blowmeo the Gnome was just written and has differences. The 3 other characters are one download as they are together. If you want your gnome to have arms or hold a sack, you can get that from the original.


Free Pattern: Santa, Reindeer and Elf Sniffle Stations
---
Tutorials
We have some tutorials available to you, but you need to review the pattern as the colour or lengths may be changed.
---
Box Covers
The box covers are similar but instead of the red finishing early and eye lash applied, you continue the colour down for more rounds before changing to a skin tone.
When you are ready to return your gnome back to clothing colour after the skin tone face, you will do it like the reindeer version and keep the clothing colour going to the very bottom.
---
Gnome Hat
The gnome hat is the same as the other hats. It's just longer. Refer to the instructions as the hat once it hits 60 sts around, it will just be a few more rounds. Then, you will finish the red portion of the hat. What's not in the tutorial is the last few rounds of using white (pearl).
For the brim of the gnome hat, you will crochet on WS (Wrong Side) as stated in the instructions. When done, when you put this hat onto the box, you will roll the brim up exposing the RS (Right Side) of the brim.
---
Nose
You will use the Santa and Elf Version Nose. Be sure to do the nose and backplate needed for it.
---
Gnome Hair
The hair is the same as the elf version. Just using white (pearl) instead.
---
Beard and Top of Hat
You will do fringing for the beard and top of the hat. Use the number of strands and lengths suggested in the pattern. Positioning is also given in the pattern.
More Christmas Patterns
No post was found with your current grid settings. You should verify if you have posts inside the current selected post type(s) and if the meta key filter is not too much restrictive.