What To Do With Caron Sprinkle Cakes Yarn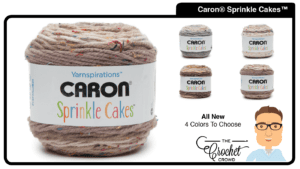 What To Do With Caron Sprinkle Cakes Yarn
Caron Sprinkle Cakes are tweed and have only 4 colours within this yarn line. It is a Super Bulky 6 weight of yarn and crochets and knits up really quickly.
It's designed for fashion for the modern trendy person and also has the appeal of rustic charm for home decor projects too.
So wether it's poncho, hat or even an afghan for home. This yarn turns out so lovely. The tweed has the fleck as expected with tweed and the Sprinkle name is based on those added features which makes it tweed.
Yarn Story
77% Acrylic, 20% Wool, 3% Other
Super Bulky 6
8.5 oz, 240 g
Approx 204 yds, 186 m.
Caron Sprinkle Cakes Gallery