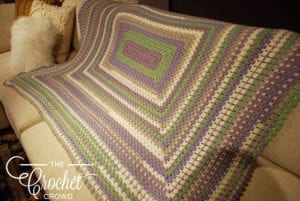 Keep Bringing on the Caron Cakes!
Hello, my name is Jeanne and I am a Caron Cakes addict.  I sat down and counted and since the debut 9 months ago in August of 2016, to date I have crocheted with this amazing yarn: 6 afghans, 4 cowls, 2 scarves, 1 shrug and 1 shawl.
Uncompleted WIPs… well I can't even begin count those. LOL
The latest colours this spring are so yummy, I made a beeline to the store as fast I as could.  I crocheted the Modern Granny Afghan again in the new Lavender Cake for a house warming gift.  I think I love it even more than when I did it in Cake Pop colorway.  I am currently working on 2 new baby blanket designs, so keep your eye out for those as I should be finished with them very soon.
So when browsing around the internet for inspiration, I stop as soon as I see someone using Caron Cakes yarn.  I have compiled another list of patterns that look amazing with this yarn.  Some of them were written for the Cakes and some I have just seen done as fabulous projects in the Caron Cakes Facebook group or on Ravelry.
Free Patterns
Paid Patterns
 The Crochet Crowd Originals
More Crochet Pattern Ideas