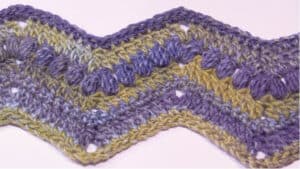 The Crochet Puff The Magic Blanket is a ripple afghan with a puff stitch to jump out of the blanket.
There is colour play involved in this blanket but rows 2, 3 4 and 5 are used over and over again in a sequence of colouring to make it appear as it does.
To change the size of this blanket, the blanket is multiple is 19+23. I don't know what the chain counts would be if you are targeting a specific size.
More Ideas

Tutorial
More Collections