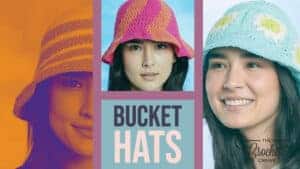 The Crochet Bucket Hat Trio is new for 2022 using 100% cotton with Lily Sugar'n Cream yarn. Of the three, I really love the stripes version as the shaping and look remind me a lot of a gift show version type of hat. It's really carefully designed and I think it's incredible.
I really love that these hats don't take a lot of yarn and are pretty quick to make. I am planning on tutorials for each of them.
---
Crochet Bucket Hat Options
Click on the picture for the free pattern link.
More Ideas
---
Tutorial
Swirl and Flower Power Bucket Hats coming soon. 
Family of Bucket Hats Series
https://youtu.be/qJA_GoONEZY
https://youtu.be/ll3xO9qxntY
https://youtu.be/LVGXVPIhwL4
https://youtu.be/ls7TJaZT9Os
---
More Collections