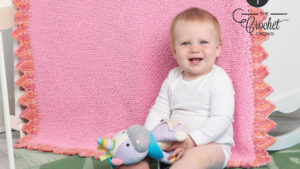 The Knit Dino Spikes Baby Blanket is classified as easy with using the garter stitch as a base. The edgings are done as a separate piece.
Using Bernat Forever Fleece Finer yarn for the ultimate softness. Pair this together with a gift for a new baby or moment. Could be very decor-oriented but also practical as well.
The edging doesn't have to be looked at like dino spikes but it's pretty neat and based on your own colour ideas would be awesome.
More Ideas

Tutorial
Not at this time.
More Baby Blankets