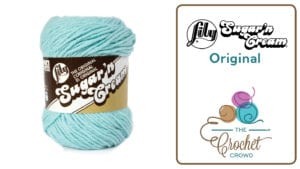 What To Do With Lily Sugar 'n Cream Original Yarn
Have you ever made that mistake of using Acrylic Yarn in the kitchen, only to have the dishcloth or towel fall apart from you? Or maybe you have been like me and used an Acrylic or other blend of yarn as a potholder, only to burn your hands or have it melt partially onto the table? Well, I may not be the sharpest tool in the shed but I didn't realize there is a difference of yarn and materials generally.
My very first dishcloth was with Bernat Super Value, 100% acrylic and man the dishes ripped my dishcloth to shreds! A quick glance online and I realized I should have used cotton yarn instead. I chalked it up as experience.
Cotton yarns by our friends at Yarnspirations.com are 100% Cotton under the dedicated branding label of Lily Sugar'n Cream Yarn. A 100% cotton that is grown in the USA. It is spun in the USA and then shipped to Canada for the dyes and packaging. It's a brand that supports North American Jobs from start to finish. 
Cotton is naturally a dull beige colour during processing it. Any colour other than the dull beige has to be dyed in order to get the look. As you will see in the videos below, the yarn must be bleached to get the snow-white colour, then dyed to the colour it is changing to. It is processing that lasts a few days through the factory from start to finish. It's incredible, at least to me, that the yarn can be sold at the prices they do consider the picking of the cotton, spinning of the cotton, transport to Canada to be dyed, going through dye house for several days and then packaged and re-shipped back out to be on a shelf near you. It's remarkable.
Cotton has the ability to withstand hot surfaces. With the wicking effect of the yarn to draw moisture from surfaces, with cotton, you can keep cool in the summer and warm in the winter. It's pretty neat generally.
So for any kitchen application, cotton yarns are a must.
Cotton is one of the strongest fibres in the craft yarn market. Ever try breaking this yarn with your hands? I cannot myself. This yarn is perfect for items like bags as the yarn will not strength and is extremely durable. For market bags, your bags should last years.
For rugs and mats, it's suggested to double up or more on the yarn strands at the same time. Because cotton can be machine washable and resist fading from sunlight, again, this type of project is meant to last for years.
This type of yarn can come in various packaging sizes. There is a large assortment of solid and variegated colours to enjoy.
Pattern Suggestions
Different Size Packaging Options
Original Size, Super Size, Cones and Big Ball Formats. Also available are Lily Sugar'n Cream that has scents added to the yarn with a pleasant aroma.
How Cotton Yarn is Dyed and Packaged
Our friends at Yarnspirations gave us a behind-the-scenes look at how yarn is dyed and packaged.
See All Colour Choices
See all colour choices for this yarn at: Available Yarn Colours. In all sizes and formats.
Yarn Story
Lily Sugar 'n Cream is known for its exceptional quality and wide range of colours, ideal for knit, crochet, and craft projects.
Natural, soft, absorbent 100% U.S.A. grown cotton
Content: 100% cotton
Ball Size - Solids: 71g / 2.5 oz, 109 meters / 120 yards
Ball Size - Ombres: 57g / 2 oz, 86 meters / 95 yards
Care: Machine wash and dry
Gauge: 4 - Medium - Worsted
Knitting Gauge: 20 sts and 26 rows with a 4.5 mm (U.S. 7) knitting needle
Crochet Gauge: 13 sc and 14 rows with a 5 mm (U.S. H/8) crochet hook
Use for: Knit and crochet home and kitchen decor, toys
Gallery
Lily Sugar'n Cream Patterns
No post was found with your current grid settings. You should verify if you have posts inside the current selected post type(s) and if the meta key filter is not too much restrictive.