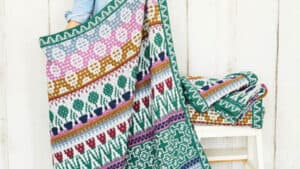 Samantha under the crochet name of Rosina Crochets absolutely checks all of those boxes in crochet for mosaic designs. Just WOW!
Be prepared to be blown away! Seriously! Some of these are the upper level of crochet in the advanced levels! Not for the weak but my word, are they amazing!
Mosaics can be simpler in concept but also get to the prize-winning levels that Samantha is capable of designing. Speaking first-hand, designing in this concept really baffles me because you have to have the foresight to see into the future on ensuring the stitchwork will turn out and showcase the designs.
There is also a dedicated group on Facebook called Mosaic Crochet World. You can join that if this type of crochet interests you. Please note, we don't run that community and are moderated by their own community leaders.
More Ideas

Tutorial - Basics of Mosaics
Try Your First Mosaic
More Mosaic Patterns
No post was found with your current grid settings. You should verify if you have posts inside the current selected post type(s) and if the meta key filter is not too much restrictive.