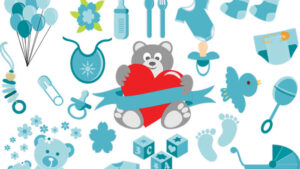 You're about to add a baby to your family or gifting a family a handmade baby item. Facts and fears.
Firstly, many people have the intention to be the best possible parent but succumb to the reality that it's much harder. The same goes with being a grandparent.
Many new parents and grandparents discover crochet and knitting for the first time during the 9 month period of waiting for a new family to arise. There is something special about handmaking a precious gift whether it's the baby's first blanket, sweater, hat or even booties. For this sector of individuals who have never crocheted or used yarn before, the yarn aisle can be daunting and a starting place.
---
Introductory Crochet Baby Blanket Project
Yarn Aisles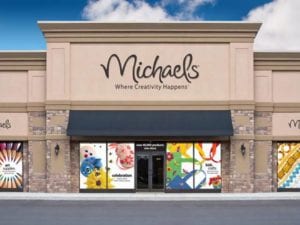 The yarn aisle can be your best friend but also the overwhelming sensation that you aren't in Kansas anymore. While marketing has improved in the stores to give more examples and project samples on the ball bands. You are mostly looking for a specific type of yarn.
Let's talk about some of the materials used in a yarn.
---
Acrylic Yarns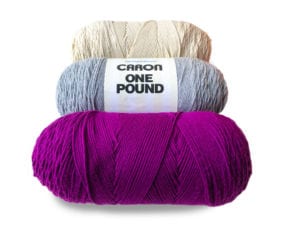 Most yarns you will see will be acrylic yarn. It is a polymer-based product, yes, a plastic that is made with petroleum. It is filaments that are made into synthetic fibres.
If this is worrying you already, look at your clothing labels, most of us are wearing clothes that are petroleum-based, Check the materials of your curtains, carpet, furniture, rugs, towels and anything else in your home that resembles a fibre. This is not new material for most of us.
Acrylic yarn is cheaper to make.
A lot of acrylics can be made in a short time frame.
It's an inexpensive option for beginners.
It's easier to handle this type of project as it tends to last longer and holds up over time.
Keeps heat in and warm during colder weather.
---
How Much Yarn to Buy?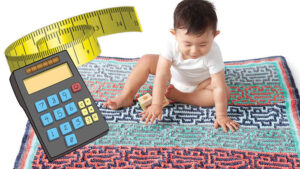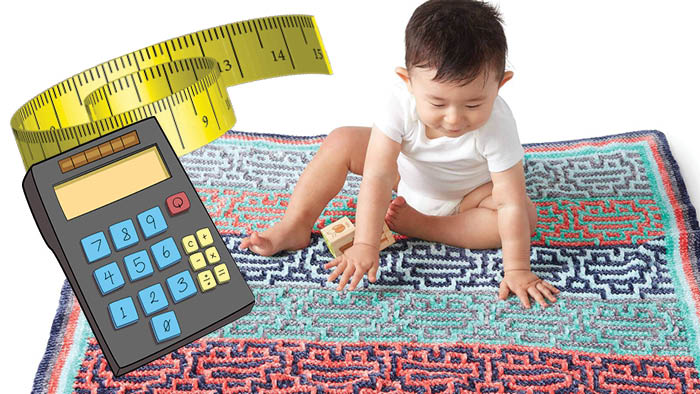 When shopping, assuming you don't have yarn, how much yarn do you really need for a baby blanket?
This article, How Much Yarn to Buy covers those plus gives a nice assortment of different skill levels for baby blankets.

---
Cotton Yarns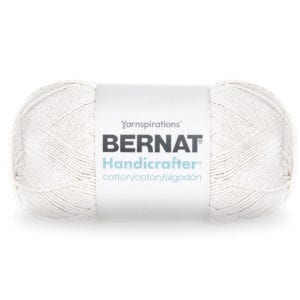 Cotton Yarn is a natural yarn that is grown from plants. For the brands of Bernat Handicrafter, Peaches & Creme and Lily Sugar'n Cream yarns, the cotton is grown in the USA. Spun in the USA and then sent to Canada for dye processing and balling.
What you see here is NOT MERCERIZED COTTON. I'll explain the differences below. 
Cotton generally feels rough straight out of processing but has advantages that generally hold up long term. It also softens on the first wash as well to relax the fibres. Cotton is one of the strongest fibres out on the market. It also doesn't stretch at all. If the project is stretching, it's the stitchwork that is causing the stretch, not the yarn itself.
Heat and Shaping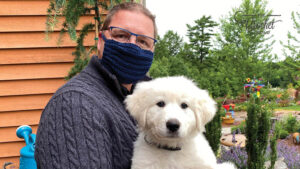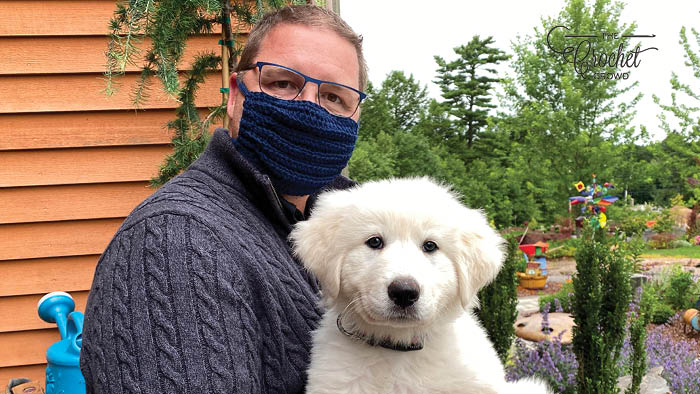 Cotton holds the colouring much longer and the project will last substantially longer in use.
The Crochet Face Mask I use during Covid-19 is using Lily Sugar'n Cream yarn. There are two layers of fabric sewn to the inside of this face mask. The original picture with PuppiDawg was taken in July 2020 when Nova Scotia became mask mandated in public. At first, it was stiff but quickly softened.
The face mask has been washed more times than I can count and the colouring is still intact. The shaping has kept the same.
I wouldn't have used acrylic polymer-based for a facemask as I know the heat retention on polymer yarns can be substantial. In the middle of the summer, wearing a cotton mask with two layers of cotton fabric inside was the best solution. I don't overheat.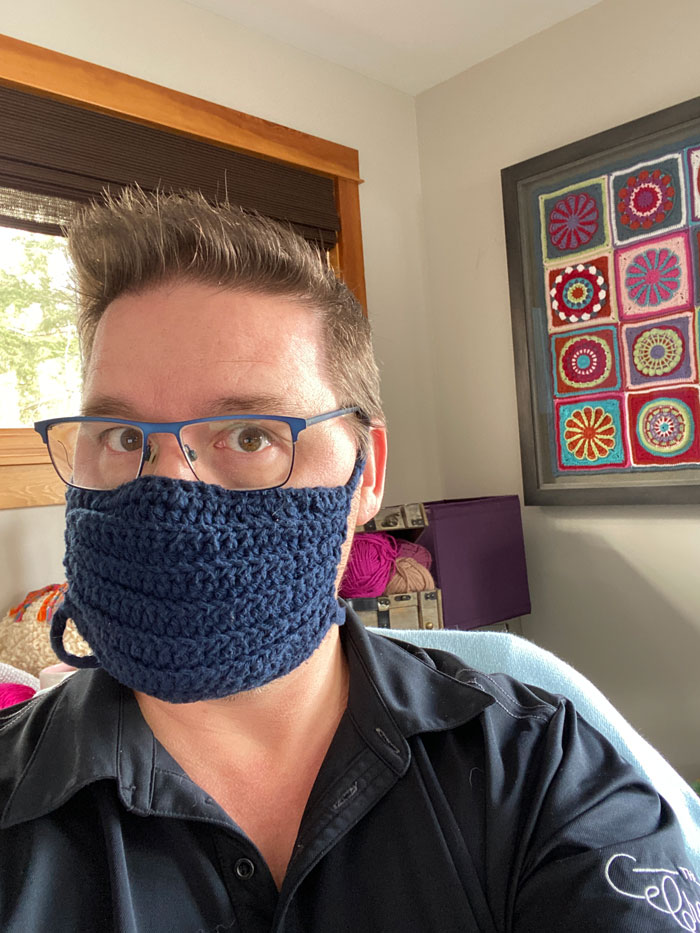 ---
For those in warmer climates, your first baby blanket should be considered to have a cotton or cotton blend to it. Of course, if you are in an air-conditioned location, the acrylic version will be okay. Just know that out and about on a hot day, the blanket material should be considered.
Cotton has the resilience to withstand heat and cold temperatures. On hot days, the cotton can keep you cool and on cold days, the cotton can keep you warm. It's versatile in how it reacts to the conditions of temperatures. The cotton can disperse your heat out when needed or retain it when you are feeling cold.
So if you were to do a blanket using Bernat Handicrafter or Lily Sugar'n Cream. Be sure to give it a wash before use to let it relax.
---
Mercerized Cotton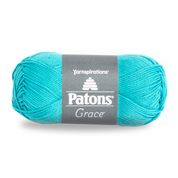 Mercerized Cotton is treated cotton, which I personally love, is cotton that is treated to take dyes better, increases strength and gives a lustre-like shine to the cotton. Patons Grace is an example of Mercerized Cotton.
I love this yarn for clothing, scarves, shawls and table wear like table clothes. It's higher in price due to the process, so I don't believe Mercerized Cotton would be a way to go for a baby blanket.
---
Animal Fibres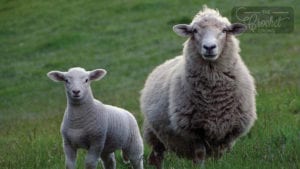 I would avoid using yarn with an animal blend for a baby blanket. My article about the Wool Differences will outline different elements you may not have considered.
New moms will be worried about the baby breaking out in a rash. The rash could be allergies but most likely the quality of the wool. Most people who think they are allergic to wool aren't at all, they are reacting to the processing of the wool.
Wool up close resembles the look of a rose stem with the thorns. Raw wool is scratchy to the skin as the microscopic thorns are lightly scratching the skin. As wool is bushed and processed, more of those thorns break off. The more thorns that come up, the finer the wool. There is also a difference in lamb wool versus full-grown sheep wool.

Of course, it's not just sheep, it could be alpaca and many other creatures. Merino Wool Sheep are generally the finest but it's the processing that kicks them up the pole for the cost factor. Again, this is where knowledge of how yarn is made comes in handy. Speaking bluntly, this level of processed yarn is generally found in independent yarn shops where skeins can be $20 - $100 each.
A live animal needs to be fed, housed, medicated and taken care of. Yes, there are horror stories involves with livestock harvesting of fibres. I know local farmers who harvest the hairs from their livestock. So not everyone can get lumped with the same brush.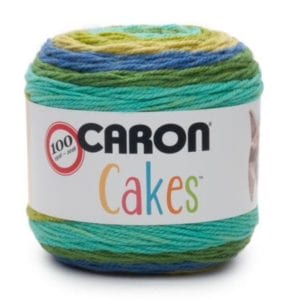 1 Sheep's coat is about 5 to 10 lbs of fibre. It can be up to 30 lbs depending on the animal. Generally speaking, 1 sheep can produce enough wool for 4 sweaters. Wool can go so much further if it's blended with other fibres like Acrylic.
Caron Cakes are a 20% Wool to 80% acrylic blend. So the wool can go so much further when the entire ball isn't 100% Wool. It's why it can be so much cheaper than 100% wool. It serves the purpose of retaining heat like wool does but at an affordable price.
You may want to avoid anything with a wool-based material for baby blankets and stick with Arcylic.
---
Charities
All the charities I know prefer you use 100% acrylic and most likely will reject blankets that have a wool blend to them. It's just to be cautious. If a baby is truly allergic to wool, it's not a moment to test that theory.
---
The Yarn Prices In Select Stores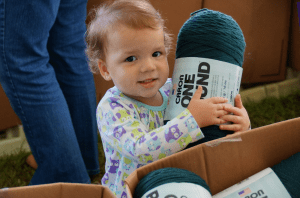 The big retailers, with the exception of a few, are coupon savvy. A large retailer cannot take a constant loss when it comes to coupons, so the prices of the yarn have to be compensated for the coupons that can be applied.
For myself, if I am going into one of these stores, I have my APP ready to get the discount the store is generously offering. To give me 10 - 40% off has to mean the product can take the hit with such discounts.
I tend to shop more when the products are on sale. Getting a percentage off each ball versus getting all of the balls at a sale price appeals to me more. Just subscribe to online newsletters for the retailers to get notifications of sales.
There are now 'everyday value' products means that the product has been changed in pricing and the coupons are invalid. It means, the price is reflective but cannot take a hit with a discount coupon without falling below the cost of the product. I have to admit, there is confusion at times about which products can have the coupon being applied and what products are exempt.
In a pinch or just being spontaneous, I get products when I need them regardless of a sale or how many items I purchase where the coupon is limited.
---
Price on the Store Shelves
For the main retailers, I have found and know from behind the scenes experiences that the prices of the yarn at regular price are heavily scrutinized before a product is considered to be on the store shelves. All of that is taken into a factor and each store knows its shoppers the best. There are some yarns that will never hit the store shelves, not because the yarn is terrible, but because the manufacturing prices will be higher than typical and bump up the price of the yarn on the shelves.
One insider told me that when Wal-Mart does a roll-back on the shelves. It's truly a roll-back from everything behind the scenes. So if Walmart negotiates a cheaper price in wholesale. They don't keep the extra money from the lowered wholesale rate but pass it along to the consumers. I cannot say this always happens but from what I was told, it appears to be true for at least the yarn sections themselves.
Crochet and knitting are perceived to be cheap hobby but they really aren't. You need the raw materials to create a masterpiece. Yarn choices will dictate how much your blanket will cost. However, consider if the yarn is cheaper and it's not on sale, think about the longevity of the project. Usually, if the yarn is higher-priced, the yarn quality and processing will be better. It's just a general rule of thinking. You truly pay for what you get.
---
Buy a Pre-Made Blanket on ETSY
Yes, you may be able to buy a finished baby blanket cheaper than making it yourself. However, think about the time and skills and personal touches you will do. If time creeps up on you, you can always buy handmade crochet and knit baby blankets on ETSY. There's nothing wrong with that either as these people can save you time and the prices are in line with what you should pay.
There are some really beautiful, ready-to-ship blankets just waiting for a home. Support an artisan and cheaper isn't always better.

---
Watch How Yarn is Made
More Collections