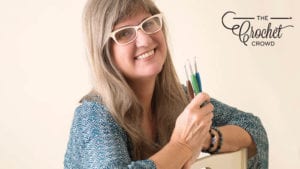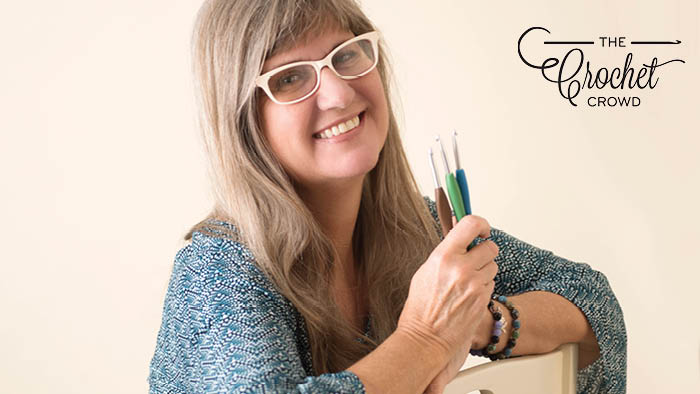 Jeanne Steinhilber: Crochet Designer
Jeanne Steinhilber is the community chaperone and a team member with The Crochet Crowd.  She learned to crochet as a child from her mom, but has only recently dived into the world of design, inspired and mentored by Michael Sellick.  She joined the team after Crochet Cruise with us on a Crochet Cruise in 2015 as a regular guest.  She loves to incorporate texture into her crochet projects and her designs are usually fun to hook as she often likes to combine stitch combinations.  
Others In Our Team
Jeanne is very aware of watching what the crocheters are interested in. She crochets at a prolific speed while documenting her way through new designs that are in progress. We consider her part of the mortar of The Crochet Crowd where she helps write content and keep a competitive edge. She has similar interests with us and aligns with Michael's personality in the humour and work ethic points of view.
She is very fortunate to have a great foundation of friendships around her in real-time at home. It's not uncommon for her friendships to create mini-retreats for themselves and spend the weekend crafting, gossiping, cooking and more.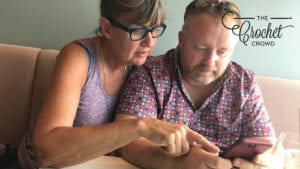 While it feels like we have known Jeanne for a long time, the truth is simple. She's a part of our lives here with Daniel and me. She and Daniel have a love-hate relationship. They raz each other as a competitive spirit. Secretly, they probably enjoy working together but you wouldn't know it so much as they throw the one-liners at each other.
Jeanne likes to accommodate requests of her patterns that she makes. For example, someone will suggest she should do the pattern in a different shape. She feels challenged and, often times, she will put in several hours to either work it out in mathematics or do up a completely new sample. The Crochet Hugs & Kisses Series are examples of Jeanne accommodating the requests of many.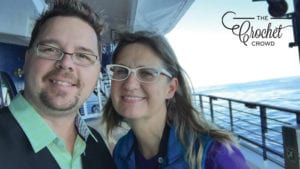 Jeanne's drive is a strong contributing factor for keeping The Crochet Crowd in motion. She can be the one to cheer you on to continue. She can also be the person to tap you on the shoulder to self correct your attitude to strive for better.
What's in Jeanne's future? Who knows but inspiration is usually a click away. Stay tuned for projects by Jeanne in the future. Below is a massive list of her designs since joining with us in 2015.
Jeanne can be easily found on social media helping others in all things crochet-related.
Links
Designs by Jeanne