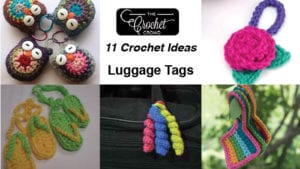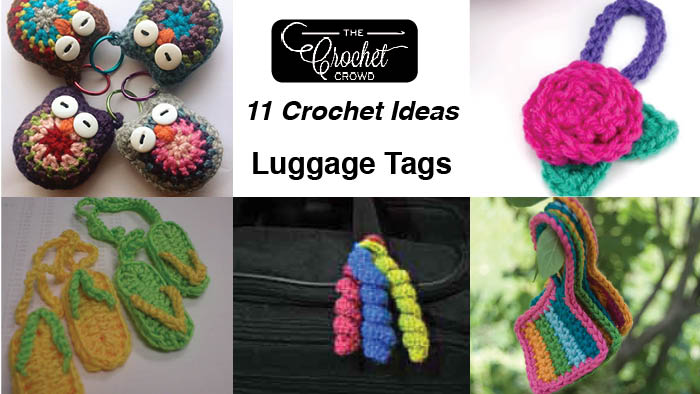 Make Your Luggage More Identifiable
Identify your luggage easier with a personalize, hand made, luggage tag. The key to luggage tags is not to make them too big that they get caught on other bags. With most people using black luggage, these tags can make identifying your luggage faster.
I absolutely love to fly on vacation.  I also have a bit of addiction to pretty luggage.  It always surprises me when I see tons of black luggage pieces coming around the airport carousel.  Why don't more people buy colorful bags?  Mine are Aztec Purple and no one is grabbing my bags by mistake.  I do see some people attaching colored ribbons and other things to their bags to make them stand out a bit.
I have been busy lately getting ready for the upcoming Crochet Cruise.  Last year, we received a really nice bag from Yarnspirations, but with around a hundred crochets, we needed to attach tags to tell who's bag was who's.
This year, I thought I would make a few things before the trip to be ready to yarn bomb my bag!  If you have an upcoming Spring Break trip, think about dressing up your bags or luggage too.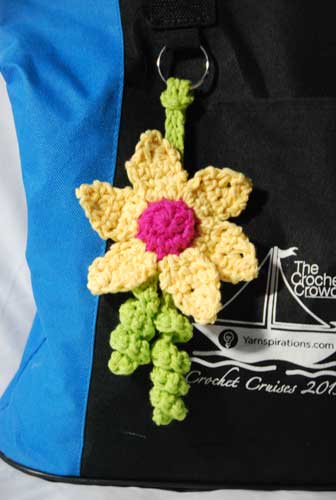 Get ready to Tag your Bag on the Cruise!
Slippah Luggage Tags - flip flop style tag should be quite popular for those beachy trips.
Tag-It - a perfect little square that can have tons of options for personalization.
Amigurumi Hello Kitty - so cute for your little girl's bags.
Travel Blooms - a sweet rose tag.
Flower Applique - free pattern, but you will have to register to download this one.
Heart Tags - basic heart with several pictures at the end to jumpstart your creativity on these cuties.
Monogram Tag - use surface crochet technique to add your own monogram.
Crochet Curls - you are sure to find your bags easily on the luggage carousel.
Minion Tags - bello, who doesn't love a Minion.
Owl Key Chain - just add a longer loop to attach this sweet owl to your bag.
Flower Luggage Tag  - my flower tag shown above.
Looking forward to see all the creativity from my cruise friends soon.
More Crochet Collections to Enjoy