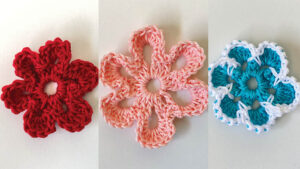 Originally Yarnspirations patterns but were retired, we have three types of flower appliques you can add on to finished items.
The 3 Crochet Flower Appliques are similar to each other in approach.
The small flower applique is only 2 rounds while the smiley flower is 3 rounds without a pop off edge. The large flower is similar in approach just with more stitches and taller stitches.
The small flower versions at 2.5″ in diameter and the large flower are 3.5″ in diameter.
More Ideas

Tutorial
These tutorials will be replaced and a new left-handed tutorial for each will be coming in the future. The large flower in the tutorial below has the optional edging like the smaller flower but isn't written out. It's the same approach as the small Smiley Flower.
More Collections