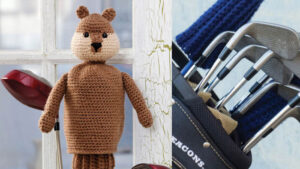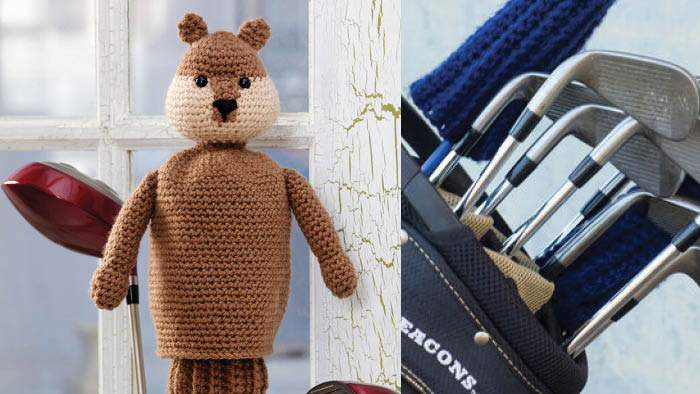 From the serious to the laugh out loud covers, we have located 6 free patterns to drive home a winning score. From the OMG are you really going to crochet that to oh I have to have that.
Below are 6 free crochet patterns from various designers across the net. Of course, change the yarn and maybe add your own flare, you could come up with your own style too!
---
Crochet Poodle Golf Club Covers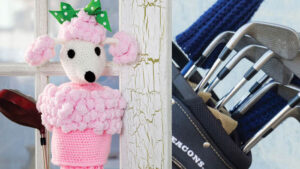 Isn't this just ummmm, show stopping! hehe. The Poodle Golf Covers may stand out from the bag.
It's outrageous, it's unique... it doesn't need to be fed or walked! It's perfect!
Keep your eyes on the balls for this is a great concept to make someone laugh out loud as a gift! "Omg, did you really crochet that!? Why yes I did!"

---
Crochet Gopher Golf Club Covers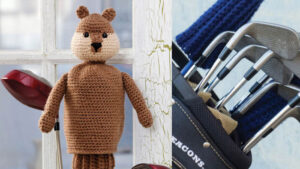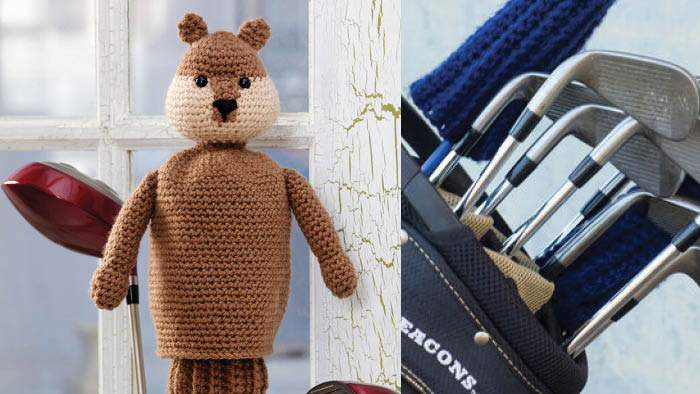 For those who enjoy golf, this cover may be extra special. Instead of the gopher tearing up the grass, you may know someone that loves to 'accidentally' make divots as they swing! The Crochet Gopher Club Cover is just cool!
Gift worthy potentially for a golfing friend... well duh I cannot believe I just wrote that! LMAO. Where else can put this gopher on?

---
Crochet Striped Golf Club Covers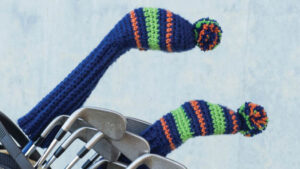 For those who prefer to play a safe game in not bringing attention to their golf bag, you can make these striped Crochet Golf Club Covers.
Easy to make and are almost done like mittens without the thumbs. Slip-on, slip off! Add a pom just because you can. If you prefer solid colours, skip the pattern advice to change the colours.

---
Crochet Striped Golf Club Covers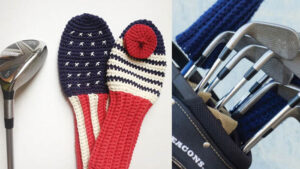 From Paris to California Inspired Golf Club Covers, designed by A French Touch.
The simplistic idea of adding stripes or cuffing to the cover. Very much like mittens without a thumb. You can be solid or colourful. The designer is giving you lots of options to experiment with inspiration.

---
Crochet Striped Golf Club Covers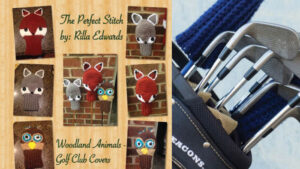 Three animal crochet cover tops by Rilla Edwards. You can choose an owl, fox and wolf. Three Woodland Golf Club Covers.
Whimsical and fun. Life is short. Enjoy the fresh air with a game of golf, cover those clubs with a smile-worthy cover.

---
Crochet Big Head Golf Club Covers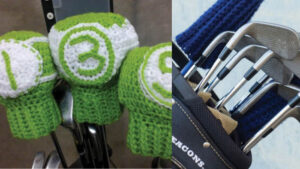 Designed by leading YouTube Host, Bob Wilson from Australia. This generous head-sized club pattern has the option to title the clubs to the number that they are.
You can play with colour options. Just slip on and slip off.

More Collections