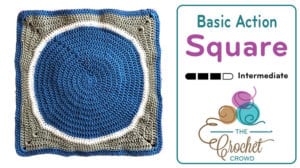 Crochet Basic Action Square
There are three types of the circle in the squares for the Action Packed Afghan Design. This is the basic design of a just a regular circle that is surrounded by rounds that convert it to a square. It's then encased in a frame.
By clicking the GET PATTERN button, you can access my own pattern for the basic square. 7 of the 9 squares in my design are the basic design but changed colour in strategic spots for colour play.


The squares are 18″ x 18″. They are large and a baby size blanket would be only 9 squares in a 3 x 3 square configuration. For me, they take about 2 hours to crochet from start to finish for each square.
Using Caron One Pound Yarn, you can create these bold basic squares and fill them in with your own improvised patterns to customize.
Eight of the nine square designs use this pattern. The difference is where the colours are changed to form the action squares. The square itself, with the motifs, takes me about 2 hours from start to finish.
Motifs in the middle consist of other patterns found around the internet. Such as the bat and stars from Yarnspirations. The web square is a surface overlay. The S Square, Lightening, Hammer, Belt Buckle and Letters are my own creations. Due to copyright, I am not releasing some of these additional motifs out of respect of trademark branding. You cannot call any of these squares by the superhero representation, nor can the patterns be sold. They are mere artistic impressions.
Pattern Revised: July 7, 2017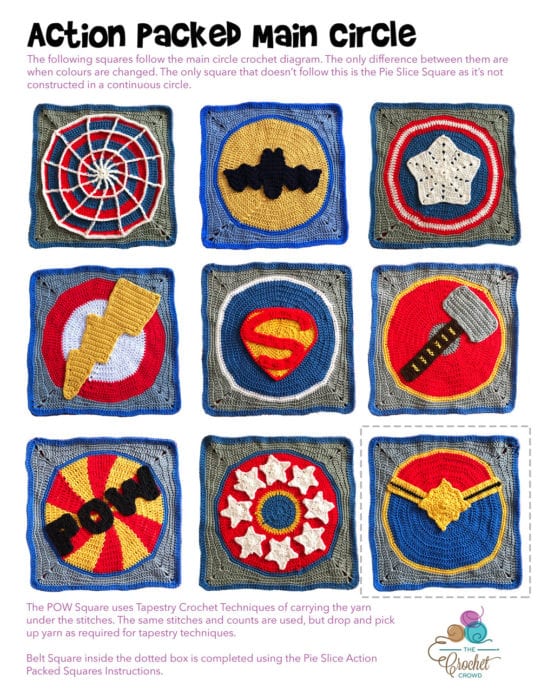 These squares are being used on a Crochet Cruise to benefit children of Project Linus. Crocheters attending the Fall 2017 Cruises are encouraged to use their own creativity with filling in the centers with images that children would love to see.
Tutorial
The basic square is the round section before transitioning to the square shape. The colours have been changed but the pattern stitches remain the same.
More Comics Ideas