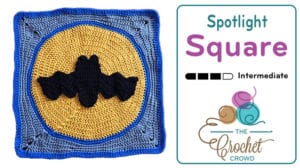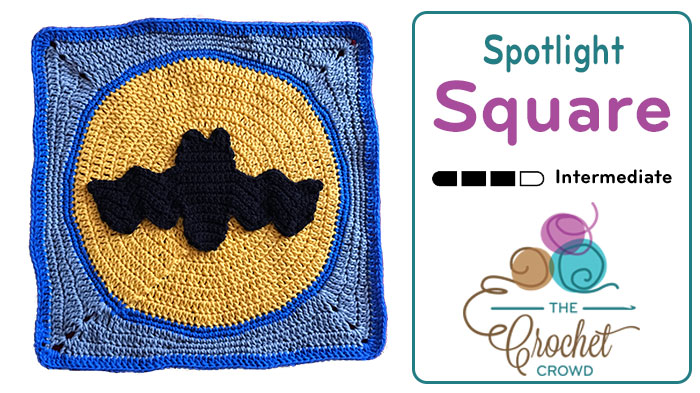 Crochet Spotlight Square
The Crochet Spotlight Square pattern has the basics of the square itself. The bat is an added on the motif that is a dishcloth pattern to overlay it to the top.
The center of the circle is gold with the final two rounds being blue before transitioning to begin the corners. The squares are 18″ x 18″ using Caron One Pound Yarn.


This is part of the Action Packed Afghan by Mikey. None of the squares are to be labelled as the superheroes themselves. These are mere artistic impressions. These have been designed for the Project Linus Project on board the Crochet Cruises for Fall 2017.
You can use any colours you wish or maybe change out the motif to something more relevant. We leave that creativity to you.
Pattern Revised: July 7, 2017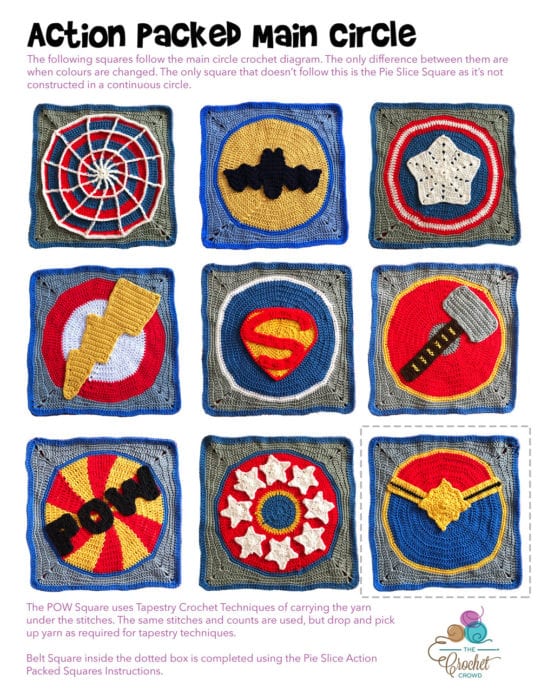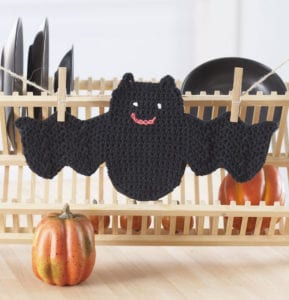 Bat Pattern
The Bat Crochet Dishcloth is originally crocheted using Lily Sugarn Cream Yarn. In this particular square, you will use Caron One Pound Yarn with the same size hook as the original square.
Get the pattern for the Bat Dishcloth Here.
The bat is crocheted from bottom to top. As you work your way through the pattern, the wings are part of the main design and you will crochet additional chains in certain rows to make the bases for the wings to continue upwards.
The only difference between my bat and this is that I left off the face of the bat. If you wish to add cute eyes or whatever, you are welcome to do so.
More Comics Ideas