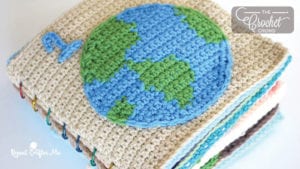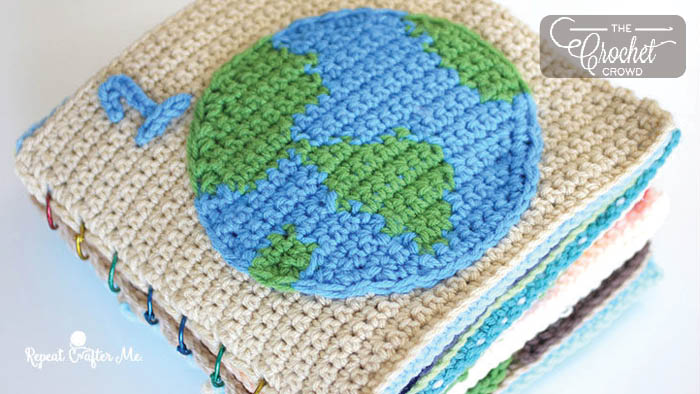 Crochet Earth Day Quiet Book
Sarah of Repeat Crafter Me has an innovative free pattern called Crochet Earth Day Quiet Book. It's featuring scenes of planet earth, all crocheted.
I saw it on Instagram for the first time, her daughter, Zoe, was flipping through the book and I thought to myself. How did Sarah ever think of this idea? It's so awesome.
The book is made up of graphghan techniques and appliques. What's not to love about it. Sarah has this wicked ability to take something so ordinary and push it to extraordinary. She is one of my all-time favourite crochet designers. Like me, she offers her design for free.


More Ideas to Explore
More Ideas from Sarah of Repeat Crafter Me
Repeat Crafter Me" data-style="grid" data-row="1" data-layout="vertical" data-rtl="" data-fitrows="" data-filtercomb="" data-filterlogic="OR" data-filterload ="" data-sortbyload ="" data-orderload ="false" data-fullwidth="" data-fullheight="null" data-gutters="[[320,5],[480,5],[768,10],[980,10],[1200,10],[9999,10]]" data-slider='{"itemNav":"null","swingSpeed":0.1,"cycleBy":"null","cycle":5000,"startAt":1}' data-ratio="1.78" data-cols="[[320,1],[480,2],[768,2],[980,3],[1200,3],[9999,3]]" data-rows="[[320,200],[480,200],[768,220],[980,220],[1200,240],[9999,240]]" data-animation='{"name":"Fade in","visible":"","hidden":""}' data-transition="700ms" data-ajaxmethod="on_scroll" data-ajaxdelay="100" data-preloader="1" data-itemdelay="100" data-gallery="" data-ajax="">
Amigurumi Patterns
,
Baby Toys
,
Bernat Blanket
,
Crochet Video
,
Easy
,
Holiday Patterns
,
Repeat Crafter Me
,
Amigurumi
,
Baby Toy
,
Baby Toys
,
Bernat Blanket
,
Bernat Blanket Duck
,
Big Crochet Duck
,
Crochet Amigurumi
,
Crochet Baby Gifts
,
Crochet Baby Shower
,
Crochet Baby Toys
,
Crochet Characters
,
Crochet Stuffed Toys
,
Crochet Stuffies
,
Crochet Toys
,
Duck
,
Easter
,
Quackers the Duck
,
Repeat Crafter Me
,
Sarah Zimmerman
,
Toys
Amigurumi Patterns
,
Baby Toys
,
Crochet Valentines
,
Crochet Video
,
Easy
,
Free Crochet Patterns
,
Holiday Patterns
,
Repeat Crafter Me
,
#5 Yarn
,
Amigurumi
,
Baby Toy
,
Baby Toys
,
Bernat Velvet
,
Crochet Amigurumi
,
Crochet Baby Gifts
,
Crochet Baby Shower
,
Crochet Baby Toys
,
Crochet Bear
,
Crochet Characters
,
Crochet Love
,
Crochet Love Gifts
,
Crochet Stuffed Toys
,
Crochet Stuffies
,
Crochet Toys
,
Crochet Tutorial
,
Crochet Valentines
,
Easy Crochet
,
Gifts
,
Love
,
Repeat Crafter Me
,
Sarah Zimmerman
,
Toys
,
Valentines
Corner to Corner Patterns
,
Holiday Patterns
,
Repeat Crafter Me
,
Bias
,
Bias Stitch
,
C2C
,
C2C Blanket
,
C2C Ideas
,
C2C Stitch
,
Corner to Corner
,
Corner to Corner Ideas
,
Corner to Corner Stitch
,
Crochet Blanket
,
Crochet C2C
,
Crochet C2C Stitch
,
Crochet Corner to Corner
,
Crochet Corner to Corner Blankets
,
Crochet Corner to Corner Stitch
,
Crochet Tutorial
,
Easy Crochet Stitch
,
Granny Square
,
Repeat Crafter Me
,
Snowman
,
Stitch
Crochet Halloween Blankets
,
Crochet Pumpkins
,
Crochet Video
,
Holiday Patterns
,
Intermediate
,
Repeat Crafter Me
,
Blanke
,
Crochet Pumpkin Blanket
,
Crochet Pumpkin Patterns
,
Crochet Pumpkins
,
Crochet Throw
,
Crochet Tutorial
,
Fall
,
Halloween
,
Halloween Blanket
,
Pumkin
,
pumpkin
,
punkin
,
Repeat Crafter Me
,
sarah
Corner to Corner Patterns
,
Holiday Patterns
,
Repeat Crafter Me
,
Bias
,
Bias Stitch
,
C2C
,
C2C Blanket
,
C2C Ideas
,
C2C Stitch
,
Corner to Corner
,
Corner to Corner Ideas
,
Corner to Corner Stitch
,
Crochet C2C
,
Crochet C2C Stitch
,
Crochet Corner to Corner
,
Crochet Corner to Corner Blankets
,
Crochet Corner to Corner Stitch
,
Crochet Tutorial
,
Easy Crochet Stitch
,
Granny Square
,
Repeat Crafter Me
,
Stitch
Corner to Corner Patterns
,
Holiday Patterns
,
Repeat Crafter Me
,
Bias
,
Bias Stitch
,
C2C
,
C2C Blanket
,
C2C Ideas
,
C2C Stitch
,
Corner to Corner
,
Corner to Corner Ideas
,
Corner to Corner Stitch
,
Crochet Blanket
,
Crochet C2C
,
Crochet C2C Stitch
,
Crochet Christmas
,
Crochet Corner to Corner
,
Crochet Corner to Corner Blankets
,
Crochet Corner to Corner Stitch
,
Crochet Tutorial
,
Easy Crochet Stitch
,
Holiday
,
Repeat Crafter Me
,
Santa
,
Stitch
Baby Blanket Patterns
,
Collection Patterns
,
Crochet Video
,
Easy
,
Free Crochet Patterns
,
Intermediate
,
Repeat Crafter Me
,
Baby Blanket
,
Baby shower
,
Blanket C2C Patterns
,
C2C
,
C2C Graphghan Patterns
,
Collection
,
Corner to Corner
,
Crochet Baby
,
Crochet Baby Blanket
,
Crochet Baby Gift
,
Crochet Christmas
,
crochet collection
,
crochet ideas
,
Crochet Mixed Patterns
,
Crochet Patterns
,
Crochet Random Patterns
,
Crochet Round Up
,
Crochet Theme
,
Easy Baby Blankets
,
Easy Crochet Baby Blanket
,
Gnomes
,
Graphghan
,
Marly Bird
,
Nordic
,
pattern
,
Random
,
Round Up
,
Sarah Zimmerman
,
Snowflake
,
Theme
,
Yarnspirations
Amigurumi Patterns
,
Baby Toys
,
Crochet Video
,
Easy
,
Free Crochet Patterns
,
Repeat Crafter Me
,
Stitch Along Patterns
,
Amigurumi
,
Baby Toy
,
Baby Toys
,
Christmas Crochet ALong
,
Crochet Amigurumi
,
Crochet Baby Gifts
,
Crochet Baby Shower
,
Crochet Baby Toys
,
Crochet Characters
,
Crochet Hat
,
Crochet Stuffed Toys
,
Crochet Stuffies
,
Crochet Toys
,
Learn to Crochet A Hat
,
Owl
,
Owl Character
,
Repeat Crafter Me
,
Sarah Zimmerman
,
Stuffie
,
Toys
Baby Hat Patterns
,
Caron One Pound
,
Charity Patterns
,
Crochet Basic Hats
,
Crochet Video
,
Easy
,
Free Crochet Patterns
,
Red Heart Super Saver
,
Repeat Crafter Me
,
Adult Owl Hats
,
Baby Hat
,
Charity
,
Craft Show
,
Craft Table
,
Crochet Baby Hat
,
Crochet Baby Shower
,
Crochet Child Hat
,
Crochet Craft Show
,
Crochet Craft Table
,
Crochet Donations
,
crochet gift
,
Crochet Hat
,
Crochet Help
,
Crochet Owl Hat
,
Crochet Small Hat
,
Donation
,
Easy
,
Gray
,
Helping Others
,
Kids Owl Hat
,
Learn to Crochet A Hat
,
Newborn Owl Hats
,
Owl
,
Owl Hat
,
Red Heart Super Saver O'go
,
Repeat Crafter Me
,
sarah
,
Sarah Zimmerman
,
Shower Gift
,
Small Hat
,
Toddler Owl Hats
,
Whoooo
Corner to Corner Patterns
,
Crochet Video
,
Free Crochet Patterns
,
Michael Sellick
,
Repeat Crafter Me
,
Stitch Library
,
C2C
,
C2C Blanket
,
C2C Crochet Diagrams
,
C2C Stitch
,
Corner to Corner
,
Corner to Corner Half Double Crochet
,
Corner to Corner Stitch
,
Corner to Corner Written Instructions
,
Crochet C2C
,
Crochet C2C Stitch
,
Crochet Corner to Corner
,
Crochet Corner to Corner Blankets
,
Half Double Crochet Corner to Corner