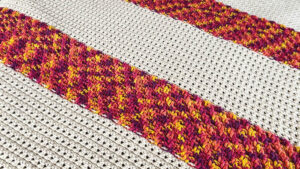 Study of Fire and Ice Blanket The Crochet Study of Fire and Ice Blanket is an adaptation based on The Study of Transition Blanket done in 2019.
Since 2019, Red Heart Colorscape was discontinued and the type of yarn it was and was stunning to look at but also pricey to crochet. Instead of letting the pattern fall, I have redone the sample and jigged up the instructions to match Caron One Pound and Caron Jumbo yarn together. Also, I have included a crochet diagram to follow as well. It's in the free download of this pattern.
The stitch multiple is 4+1.
The zig-zag basketweave section was changed so you wouldn't go over the 1 ball of the Caron Jumbo for each stripe. In this example, the Caron Jumbo Zinnias is a sharp colour that resembles bold and bright like fire. There is a difference in this section versus The Study of Transition.
More Ideas

Tutorial
More Blanket Patterns