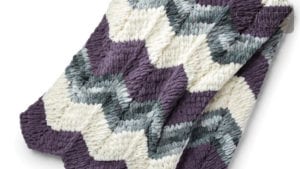 EZ Knitting Ripple Blanket
Knitting the ripple stitch with Bernat Alize Blanket-ez is doable with the help of this pattern. This is the Bernat Blanket-EZ Ripple Blanket. Learn how to increase for the peaks and decrease at the bottoms to form the ripple.
To complete the Bernat Alize Blanket-ez Ripple Blanket, you can change the size of the blanket by counting the loops in sets of 14. Each set of 14 looks creates approximately 9" distance across. Changing the loop counts will change the quantity of the yarn need. I'm unsure how many extra balls to buy if you do that though.
The tutorial below will explain the pattern, how to get started and take you through Rows 1 - 3. I also show you how to change the yarn over when changing colours or adding in a new yarn. Just simply tie the ends together and use a tapestry needle to hide the ends. I also take you through bind off.


More Ideas
Tutorial
More Blanket EZ Knitting
Bernat Alize Blanket EZ" data-style="grid" data-row="1" data-layout="vertical" data-rtl="" data-fitrows="" data-filtercomb="" data-filterlogic="OR" data-filterload ="" data-sortbyload ="" data-orderload ="false" data-fullwidth="" data-fullheight="null" data-gutters="[[320,5],[480,5],[768,10],[980,10],[1200,10],[9999,10]]" data-slider='{"itemNav":"null","swingSpeed":0.1,"cycleBy":"null","cycle":5000,"startAt":1}' data-ratio="1.78" data-cols="[[320,1],[480,2],[768,3],[980,4],[1200,4],[9999,5]]" data-rows="[[320,200],[480,200],[768,220],[980,220],[1200,240],[9999,240]]" data-animation='{"name":"Fade in","visible":"","hidden":""}' data-transition="700ms" data-ajaxmethod="load_more" data-ajaxdelay="100" data-preloader="1" data-itemdelay="100" data-gallery="" data-ajax="">