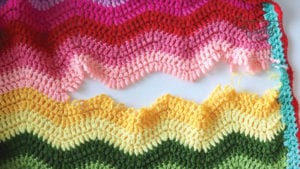 Fixing Torn Crochet Blankets
Poor little Ruby, her beautiful little blanket has been torn. Sarah from Repeat Crafter Me is going to demonstrate how she is going to fix this crochet blanket.
Fixing a torn blanket requires a bit of patience and preserving the stitches with whipstitching techniques. Sarah demonstrates by connecting the loops to prevent the work from unravelling further.
As Sarah says, it's about trying to match up the stitches. Most times for the issue, it's trying to fix the same colour of yarn and styling of yarn. That you may have to settle on a substitute.
While it will be fixed, it will never be the same but to a person where the blanket is invaluable, the repair may be the ticket of being devastated to finding the inner peace once again.
More Ideas


Tutorial
Watch how Sarah repairs Ruby's Blanket.
More Blanket Patterns