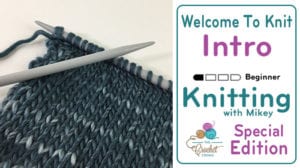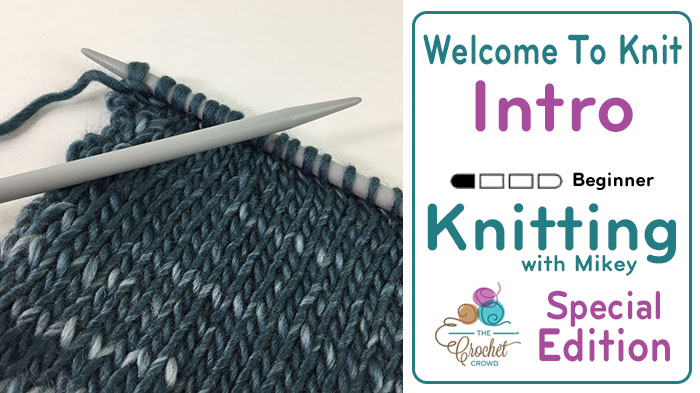 Knitting with Mikey
In recent conversations with our sponsor, Yarnspirations, the term knitting came up. The Crochet Crowd and knitting seem polar opposites. For me, the word knitting means high-end yarn, fancy, hard, impossible, difficult and much more that aren't truly inspirational words. If you want me to lie, "It's all fabulous!", there you go. But let's keep it real for me here and get back to reality. I'm hoping to change my mind and I will share more below.
As a Child
I learned to knit with my mother when I was about 8 years of age. More Canadians knit than crochet. So it may seem polar opposite that me, being Canadian, gravitates towards crochet. I will share those reasons later. We lived in a small community that was a tourist base. Busy as can be in the summer and completely desolate in the wintertime. TV was whatever you could get on the antenna. Power would go out in the middle of the winter and the storms were fierce. Our home was a cottage and you could be indoors for days.
More Knitting Tutorials
Corking or Spool Knitting
As a child, my mother taught me how to cork or spool knit. Today, we know it as loom knitting. Many of us corked our hearts out as children. As a child, I would cork until my fingers were bruised. I made the longest snakes ever. I am talking 50 - 75 feet. At the end of the project, I would help my mother curl them up and watch her sew the curl together. So I had a pillow face. By using whatever yarn I could find, I had very much a scrap yarn project but at the time, there was nothing scrap about it.
Mom was happy, we were out of her hair and I would occupy my time with the spool knitter.
Knitting with Two Needles
Mom eventually gravitated to show me how to knit. Nothing too serious. Mom would cast on for me as I never understood that as a kid. I would knit and purl. Though I would knit, I never did any projects. In retrospect, it was more of sample making. I would lose interest in knitting. Seemed like it took forever.
Oh, wait... I did make something, now that I type about it. Don't judge me... I made a hammock for my sister's Barbie. I played with Barbie. She was a rock star and after a long hard day, she needed to relax in the hammock I made her. It seems foolish but that is imagination at play. As an adult, I have not allowed my imagination to disappear which helps me be creative.
Weaving Machine Toy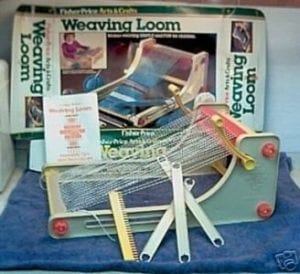 In Grade Four, I was about 9 years old. My teacher was an advocate for conservation and yarn arts. She had a professional, home quality, weaving machine. As one of the activities in the class, we could use her weaving machine to weave.
By now, I am attracted to yarn. I enjoy the fibre arts. I begged my parents to buy me this Weaving Loom. It came for Christmas and I was so excited about it. Many I weaved up a storm. Loved this machine.
So proud, I would wear scarves made from this machine. So for show'n tell, I brought it to school in the box. If ever you would regret things in life, this would be a moment in time where utter humiliation would be on top of me.
I hadn't thought about the box. There are girls on the box playing with the loom. Big mistake to bring the box to school. Boys in the class would eventually grab my loom, which I was so proud of and they snapped the crossbars and destroyed my loom. Besides being labelled as a sissy, I felt so small and cried going home on the bus that my loom was broken. A purely joyous moment for me to share my crafting ability ended up being a huge mistake.
Advocate for Crafting
If ever I were to be an advocate of anything in the crafting world is for the manufacturers to pay attention to the package. While most toys are either boys or girls, the packaging usually reflects that. For me being a boy and the packaging geared to girls, it puts the automatic pressure in your mind when you see it on the shelf and realize society suggests you shouldn't be interested in the craft if you are the wrong gender.
Crafting in the Closet
So while I was humiliated, I wouldn't wear my scarves to school that I had made since the moment of being humiliated. I crafted quietly at home without sharing that with others. In retrospect, I feel sad to type this fact. Kids can be so cruel. While my parents were supportive without question, what happens outside the home is a different matter when your parents cannot protect you from bullying and the cruelty of other children.
I would quit yarn crafts at the age of 11 years old. We had moved to the city. City life is very different than country living.
Crocheting
I saw my mother crocheting for a couple of years in my high school years. I was in Grade 10. I had a part-time job to make me feel like I was part of society. The more I worked, the more validated I felt as a kid. Today, my workaholism tendencies from this moment in my life.
My mother taught me to chain and do double crochets. I was so hooked on it. I went to the department store and bought my first yarn. It would be the Bernat Yarn in blue variegated. I used an N or 10 mm crochet hook. It was way too big for the gauge of yarn but it allowed me to make a double-size afghan for my bed.
My mother would knit mitts for the homeless and needy. Sometimes she would crochet matching scarves. I never picked up knitting from the earlier years and went right to crochet.
Crochet for me has speed. I like projects that are on and off the hook. Nothing too complex or too much time.
Adult Years
I would turn to crochet several points in my life. It was like spurts of time and not consistent. I came to realize I only crocheted when I was upset or hurting inside. The year The Crochet Crowd started 2008, I had realized if I make crochet part of my daily routine that I can stay more even-keeled.
Crochet has meditation built into the hook. It has the validation of creativity. It has instant gratification. It can be challenging to exercise your mind. It can be rewarding to be acknowledged by crocheters.
Knitting Re-immerges 2011 for Me
In 2011, you may remember the massive trend on Ruffle Scarves. To crochet them is more difficult than it is to knit. I would come to buy a set of knitting needles to make ruffled scarves. Like everyone else, I jumped on this trend. It's pretty much foolproof. For me, that's a good thing.
For me, I haven't ventured too must past this moment. I have picked up a bit of a stitch that my mom taught me. Just the basic knit stitch and purl. I hold the needles as my mother showed me. It's not incorrect but I realized I can knit quicker if I change my hand positioning.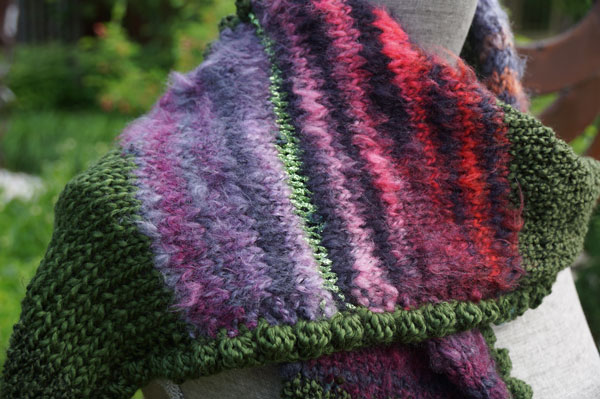 Now Today...
One thing that I am not in denial about and will easily admit, some projects look better-knitted versus crochet. Crochet has it's purpose and creativity but knitting can provide a completely different look and feel with the exact same yarn.
I find yarns today, some look incredible to knit and can be the complete polar opposite for the crochet project.
So this brings me back to Yarnspirations and my conversation with the team I report to. It was suggested I learn to crochet and being able to understand it from a professional point of view. This idea is not forced upon me but I really would like to learn more.
Major Goal
Is to remove the negative feelings I have for knitting. With my continuous love for everyday and affordable yarns, expanding one's personal skill is more mentally rewarding. I think I dislike the idea of knitting because of my lack of knowledge of understanding how to really do it.
Steps
I have to teach myself the basics. Right from the very beginning.
How to hold the knitting needles.
How to relax with the yarn in my hands without fear.
How to do some basic stitches and research in which stitches are used.
How to read knitting patterns.
How to find time to do the learning process without impacting the work on The Crochet Crowd.
How to move forward into doable projects.
So ultimately, I want to share as I am learning the steps involved in learning to knit. I don't come to the table with a very knowledgeable base in my mind. So I am using books, resources from Yarnspirations and more to teach myself to understand knitting.
So as I release the steps, I am learning in real-time with the audience. This is part of my personal goal for 2017. If I can learn, others may as well. I don't promise people will love knitting but another life skill doesn't hurt anyone.
I didn't learn crochet overnight. Knitting is the same way. I am working on a full-size scarf right now. I noticed that I am starting to get my groove. So I need to learn the lessons, practise... practise... and practice... It would be unrealistic for me to learn something new with knitting and suddenly teach it.
I think my only worry at this point, is people asking me knitting based pattern questions. Right now, I cannot read a knitting pattern. I am sure it makes sense. I just have to teach myself from scratch.
The knitting portion will not overtake crochet. But merely a Side Show to our platform. Hopefully, some of you may enjoy the process. For myself, this is more personal for me where you can tag along. If you choose to participate or not, that's in your hands.
Knit Cowl Pattern Ideas
No post was found with your current grid settings. You should verify if you have posts inside the current selected post type(s) and if the meta key filter is not too much restrictive.