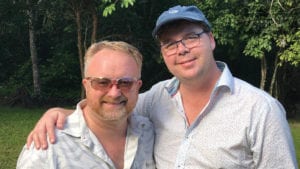 Live Show with Mikey and Diva Dan
This year, we are broadcasting our live show with JOANN from home. Mark Saturday, August 22, 2020 from 7 pm - 8 pm Eastern Standard Time on your calendars.
Samples of some fun projects have been sent to us already and we are playing a game of what's in the box! The Yarnspirations Team has sent us a box that we cannot open until the show where we will reach in and feel around. Definitely will be yarn but they have told us there will be unexpected things in the box! I cannot wait.
We will be releasing you what the JOANN Stitch Along for this fall looks like. Some of the studio samples used in professional photography have been sent here. We are focusing on home decor.
Diva Dan - Daniel Zondervan Biography(Opens in a new browser tab)
Designs Created by Michael Sellick aka Mikey(Opens in a new browser tab)
Crochet Flower Throw Afghan Pattern(Opens in a new browser tab)
Our key goal is to show you 1 project in 3 ways! Essentially, Three's Company. We are broadcasting from home live direct to you. Ana and Alli will be on with us behind the scenes fielding us your questions.
So come and join us at home (cyber-wise) as we show you what's new at JOANN this fall!
Where Online?
You will join us on the Yarnspirations Facebook Page. Be sure to like the page so you are notified. There is also an event where you can click GOING so you can get notified as well. See the New Yarn with The Crochet Crowd Event here.

More Ideas
More Blanket Patterns