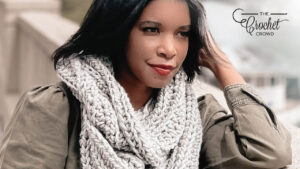 The Crochet Stone Mountain Cowl is designed for absolute beginners, designed by Jewell Washington from Chicago, USA.
Designed for Yarnspirations, Jewell is the creator behind the brand of Northknits. She is also the founder of Our Maker Life aka OML. She also has a new book out that may inspire you to push your creative limits.
Knowing Jewell's design is for beginners, it's the grassroots of crochet of inspiring interested people in crochet. Being a Stitch Ambassador for Yarnspirations, I went ahead and filmed up her design from a beginner's point of view. Slow step by step and at the end, you could end up with a project that you see above. I thought The Crochet Crowd Community could benefit from this design and learning about Jewell.
I gave extra tips like changing out yarn midway through a round and at the end of the round if you want to do stripes. Striping is not part of the design but like Jewell, you want to do what inspires you more.
More Ideas

Tutorial
More Cowl Patterns