---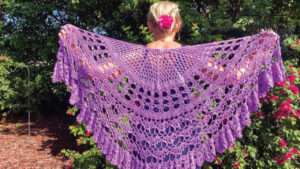 The Crochet Sadie Crochet Shawl Sampler is perfect for special occasions. Designed by Kristin Omdahl with her signature eye for detail and lacework.
Kristin was the first designer I ever followed because she provides extra detail in her patterns that I have grown to adore. She provides crochet diagrams to illustrate the stitchwork in many of her designs. Me, I learned to crochet through diagram work. This has mission-accomplished written all over it.
Exquisite is the execution that this shawl is gift-worthy but also fabulous for those special moments like weddings to accessorize an outfit. Colour the shawl any way you want.
Kristin provides that you can read the instructions from her website but you can pay $3.99 USD for a download of the instructions which include those diagrams without ads. So you can print and work on this at your own pace.
The border of this incredible crochet shawl is gobsmacking beautiful. I have included 3 videos for Kristin regarding this shawl and linked them below.
More Ideas
---
Tutorial
---
More Free Patterns
Shawls