---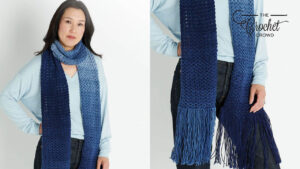 Expand your Tunisian Skills with this Tunisian Crochet Lace Scarf pattern. It's a one-row repeat easy to manage pattern. I was just trying it a few minutes ago and this is a really neat pattern. I found it easier to do than I had expected.
The free pattern linked above has yarn and hook specifications for your convenience. I found the computerized schematics to be very helpful on this pattern plus up-close shots.
I have learned through guidance that with Tunisian, a lot of things are possible as long as you are consistent about your hook placement. So even if you are getting it wrong, it's not wrong if you are doing it consistently. It's forgiving in that nature.
This is using Red Heart Super Saver Ombre. It just requires only 1 ball and maybe just a step up from beginner for Tunisian. I plan on filming this and will put it into queue on YouTube.
These would make for great gifts and charity giving.
More Ideas
---
Tutorial
I'm scheduling this for filming to be released on August 19, 2022.
https://youtu.be/pK9FQWI6bfA
https://youtu.be/6CtTX3791nQ
---
More Tunisian