7 Crochet Favorites of 2020 by Jeanne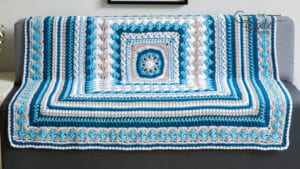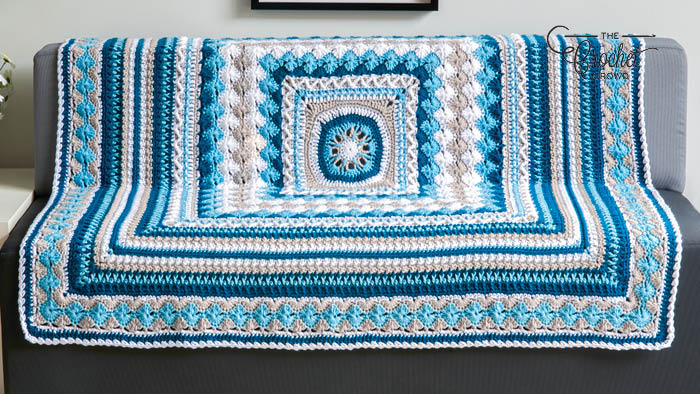 Well, as year 2020 comes to a close, I have to say although it was a really strange year, hopefully one that only comes once in a lifetime, it was a real growth year for me and my crochet journey.
I did not create as many projects this year as in some of the past years, but I do feel that my pattern writing skills have improved.  With each new design, I learn something new.  So this year was quality over quantity for me. Here is a list of my 7 Crochet Favorites for 2020.
1 - Better Together Afghan Stitch Along
Early in the year, Michael and I joined forces while on a Crochet Cruise to create the Better Together Afghan Stitch Along for the summer project for Yarnspirations.  We learned a lot about working together, including patience for guiding each other along.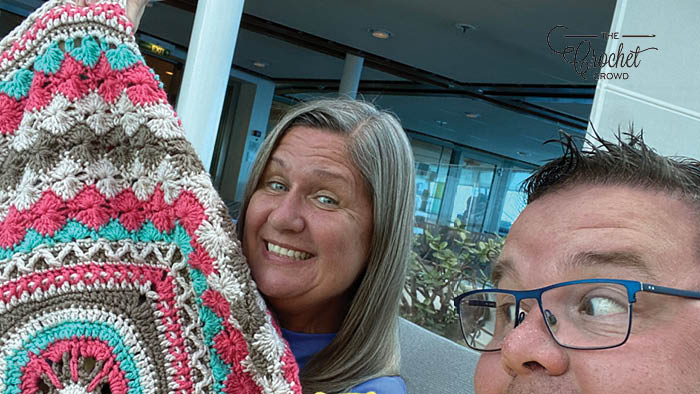 2 - All In The Family Afghan
In January, Michael hosted the Crochet Mandala Stitch Along, which was a last minute surprise, but really quite fun.  In one of our conversations as I was trying to get inspired, he challenged me to use that pattern and adapt it into a square.  Because of our relationship with Yarnspirations, we are allowed to do that to patterns.  Michael knows how to motivate me!  He uses words like, "I dare you, or I challenge you..." and out comes the yarns and hook!
I was super excited when Michael proposed this project to Yarnspirations for a Stitch Along!  It was really neat to see my project in a real pattern with diagrams.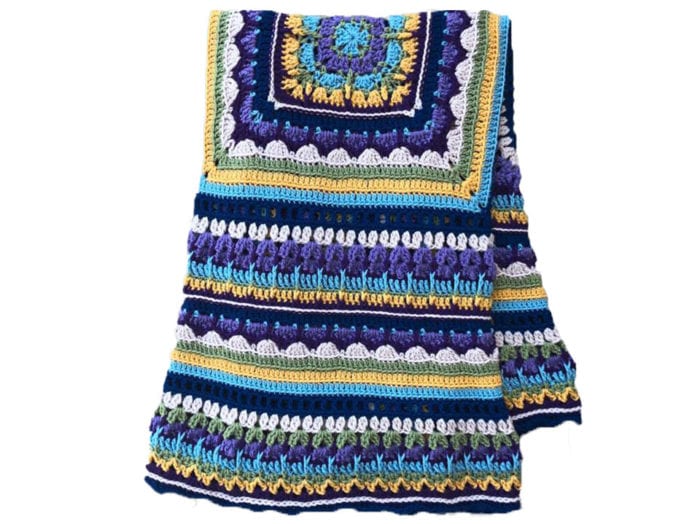 3 - Healing Stitches Afghan
Right after All in the Family went off to Yarnspirations, I mentally slipped into a dark place.  I'm sure everyone can relate to what life was like in April of 2020.  The loneliness and isolation hit me really hard.  Healing Stitches Afghan was born out of that darkness.  It truly healed my soul while I crocheted each stitch.  It was completely created for my own mental health, but since then, also I'm so uplifted by the stories of others crocheting this one.  It truly warms my heart that others have found peace in this blanket.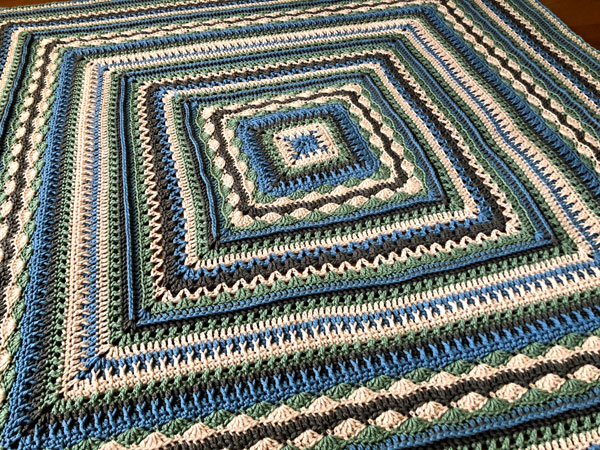 4 - Healing Stitches II Rectangle Afghan
As much as the Healing Stitches Afghan was loved, many requests came in for a rectangle version.  Of course, I couldn't resist the challenge, but went way out of my comfort zone with colors on this Healing Stitches II Rectangle Afghan.  I used color palettes for the inspiration and was very excited about how this blanket came out.  I thought it was pretty striking.  As of this typing, I haven't parted with this one yet.  I do gift most of my projects to friends, family and charity events, but I still enjoy looking at these fun colors.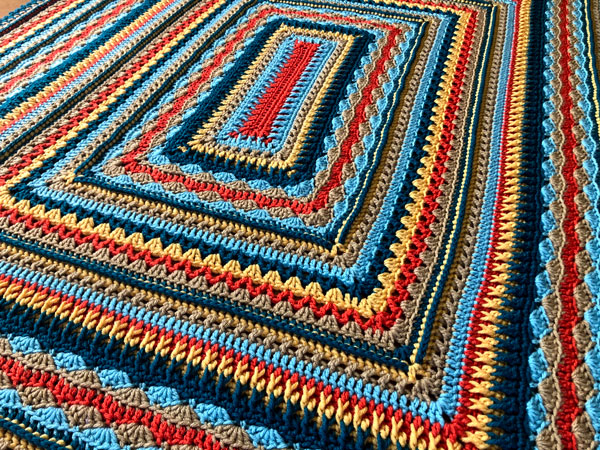 5 - Christmas Trimming Afghan
In late June, Michael was putting together the Christmas Holiday Blankets eBook and invited me to create a project to add to it.  I designed the Christmas Trimmings Afghan for this collection.  I think what I love most about this one is that it reminds me of garland draped around the house at the holidays.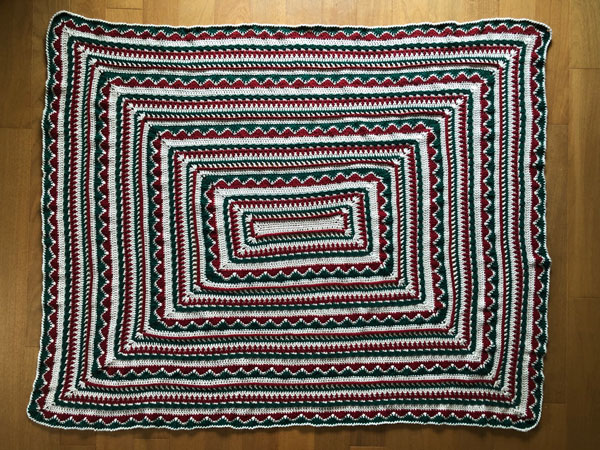 6 - Sweet Pink Baby Blanket
Sweet Pink Baby Blanket is actually the square version of the Christmas Trimmings Afghan.  I think the colors and design give it a soft, vintage look.  It was a challenge to myself to create a baby blanket that would have a heirloom quality to it.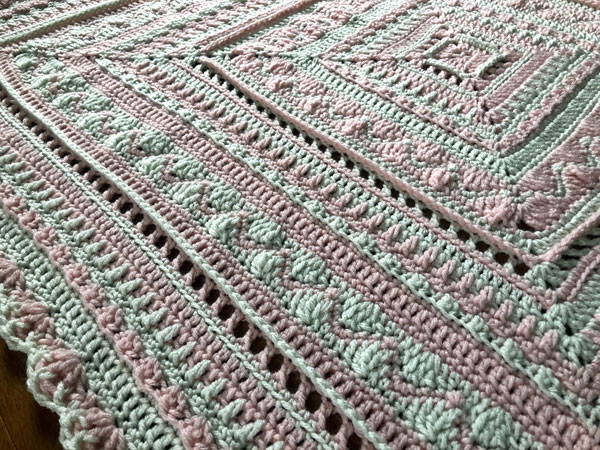 7 - 7 Day Sampler Afghan
This was a first for me to design this style of blanket.  This was another challenge from Michael to create the 7 Day Sampler Afghan after completing one motif.  Another time he pushed me outside my box to do more, suggesting the sampler.  Well, 7 days later it was done.  We decided use it as a Stitch Along project to complete 2020, and it will be your first completed project for 2021 if you play along with us.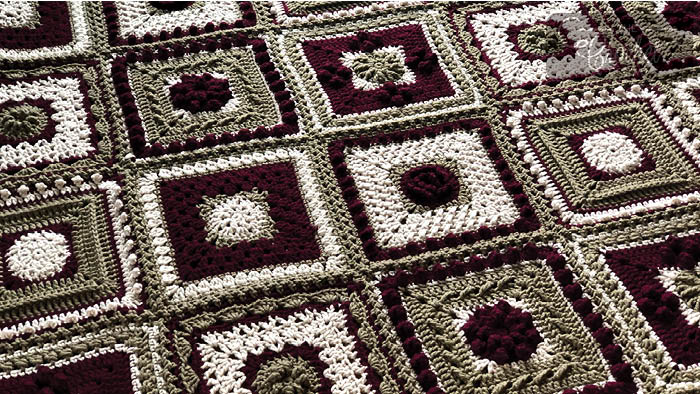 Unless you spread your wings, you'll have no idea how far you can fly!
Those are my favorites for this past year, except for one that has yet to been seen, but look for it to come out in 2021, called Into The Light Afghan.  Michael says, it's my best yet.  I am really excited and can't wait to share it with all of you.
Thank you to the whole community for your support on my journey, the testers who work through my mistakes, Wendy for allowing me the time to be offline and Michael for being such an great mentor and friend.  Let's all just be happy and keep hooking together right into 2021!
~ Jeanne
Designs by Jeanne