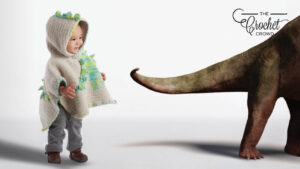 The Crochet Baby Poncho sized from 6/12 months and 18/24 months is grapghan work on the faces of the poncho.
The poncho resembles the shadow of dinosaurs walking away. Both the front and back have the reflection worked into the stitchwork. Graphing charts are available to follow this along. Be sure to watch the graph as the two sizes are shown in the diagram. For the smaller size, you don't do the entire graph.
Using Bernat Forever Fleece Finer for a very soft look and feel. Combined with a hook to take the chill out of the air.
More Ideas

Tutorial
Not available at this time.
More Shawls and Ponchos