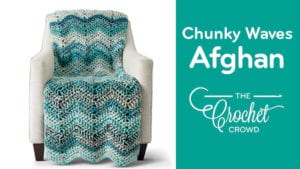 Crochet Chunky Waves Afghan
Using 2 strands at one time, you can make a marled looking wave afghan with a really big crochet hook. Yep, Q or 15 mm hook.
The thickness of the yarn played in tandem with the large hook makes this for a quick to a crochet project. Let the yarn come out of the ball as you see in the sample and you have a unique looking afghan.
Everyone's afghan will look unique as the marled effect will never be the exact same as each other. Where you start in the ball plays the biggest and coolest factor.


Pattern Suggestions
Tutorial
More Afghan Pattern Suggestions