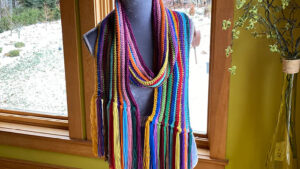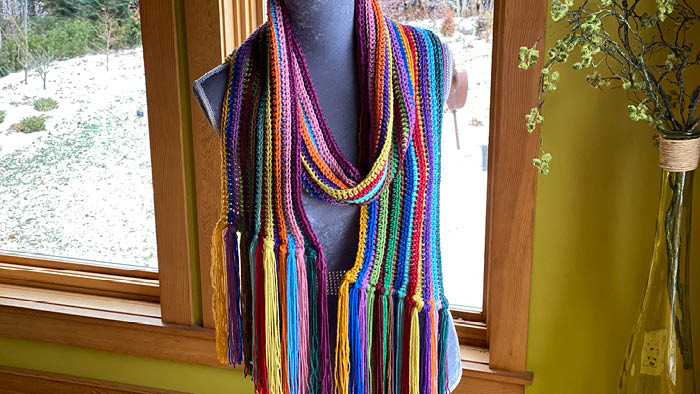 The Crochet Colour Wheel Scarf is a challenge we have for you. It is using the newest yarn brand called Caron Little Crafties. There are 20 balls inside the package, which means 20 fabulous colours. It is a level #4 weight yarn.
Pattern Options - Alternative
Using a 5 mm / H Hook, you can follow the pattern below as written. The scarf will be 76" long.
I used 6 strands of 20" per colour for the fringe instead of 4.
You have enough yarn to make it longer up to 106". Chain 362 instead. You will have enough left over to make your fringe and yarn in the ball that is decent that you won't play yarn chicken.
Full disclaimer: The angle of the base is accidental as I kept adding 1 extra stitch by accident at the end of each row. I was not identifying the last stitch correctly but was consistent. So it's an accident but looks intentional.
Original Pattern Inspiration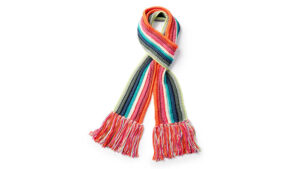 I looked at the Caron x Pantone Stripes Scarf as a sample. This yarn is now discontinued but what compelled me was the colour play. I thought, what if Caron Little Crafties could do the same thing?
I'm not great with colour play, so I asked Daniel to help me. He looked at the colours and thought, what if you look at the colour wheel to determine your next colour?
The scarf will appear at random but in harmony. It was brilliant.
Pick any colour from the bag. (I used 17 colours and didn't use white, black or grey).
Crochet the first row with that colour.
Look at the colour wheel to determine the colour that will go with it. Crochet it to confirm.
You have a choice of doing it in your own way. OR, you can do what I did and look across the wheel to see the complementary colour. OR, you can do contrasting colours by looking for the next colour like a triangle shape.
Now, pick a new colour from the bag and crochet it. Then look for its match to crochet it. Continue this strategy. It's possible that everyone's scarves will look different because though you randomly pick one colour from the bag, the second colour that is a colour wheel match could be complementary or contrasting. There are really no wrong answers.
Colour Wheel Strategy
You can print or view this colour wheel to help you with this adventure.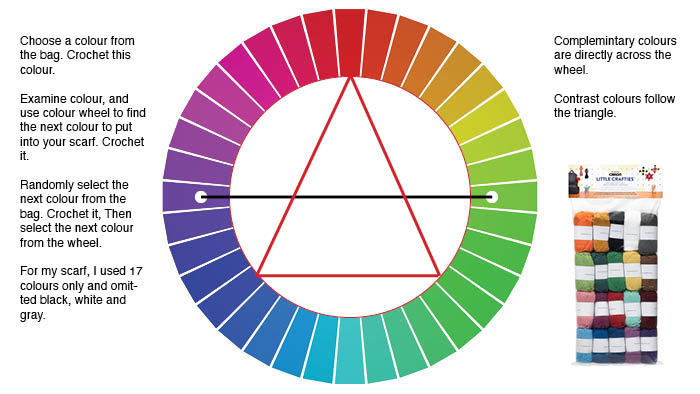 More Ideas

Tutorial
Colour Wheel Strategy
Beginner Tutorial for this Scarf
How to Make Perfect Fringe
More Scarf Patterns