Crochet Head-To-Toe Patterns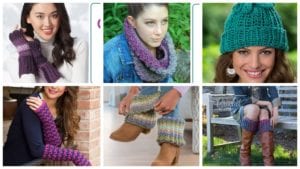 This is a fun little collection of patterns that are not only cute but somewhat practical as well. Hats, and Cuffs and Cowls oh my! I see boot cuffs popping up more and more on people, I can't blame them it's a cute little addition if you're wearing ankle boots and leggings or skinny jeans (or like me leggings pretending to be jeans jeggings) the boot cuff look really cute.
While you are whipping up the boot cuffs, why not add fingerless gloves, cowls and hats and have a complete head to toe set. I'm all about matching everything.
---
Crochet Two-For-One Hat And Cowl Pattern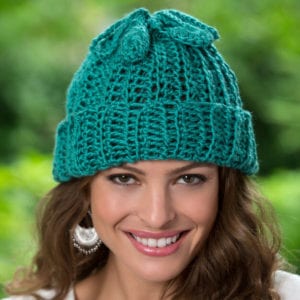 Things that have multiple purposes are the best, this hat like magic (not really but I feel like it is) becomes a cowl! You start your day out and it's cold so you want your head covered, you put on this super awesome hat, the day starts to get warm, you don't need the hat as much right now but a cowl would be super useful boom! It becomes a cowl!
I'm pretty excited about finding this Crochet Two-for-One Hat And Cowl Pattern. I know it was hard to tell from my poker face. I love it so much I got the yarn last night for it and even though I have like 10 other patterns waiting patiently to be finished, I'm part squirrel I can't help my self, I'm starting this as soon as the kids go to bed… is it bedtime yet??
The Crochet Two-For-One Hat And Cowl Pattern was Designed by Ruthie Marks made using Red Heart Soft. It's a soft and pretty yarn that this pattern will wonderful in. A great craft show item.

Crochet Winterberry Cowl Neckwarmer Pattern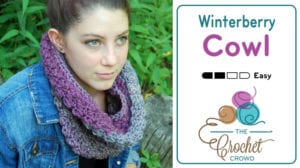 This easy yet really pretty Crochet Winterberry Cowl Neckwarmer Pattern Would look awesome in any colour to go with every outfit, it's nice and cozy, I prefer Cowls to scarfs myself, so I really like this Winterberry Cowl. I think I even have a ball of this yarn that I wasn't sure what I wanted to do with it, where I only had one ball, (I know you should never buy just one but it was all they had left in that colourway and I really liked it) I think it may find it's new home in this pattern.
The Crochet Winterberry Cowl Neckwarmer Pattern was designed by the lovely Jeanne Steinhilber she made it using Caron Tea Cakes, I love that yarn!


Crochet Wavey Long Wristers Pattern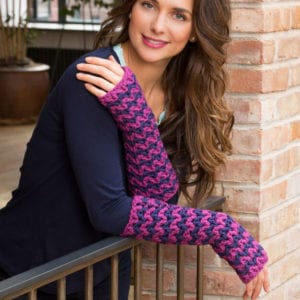 We move on now to arm area from the head when I was a kid I would always ask my nan to make me super long mitts because I hated my wrists being out when I was playing outside. She thought she was being funny when she made me a pair up to my elbows, but they were my most favourite pair that she had ever made me.
When I saw this  Crochet Wavy Long Wristers Pattern I got excited because it reminded me of an adult version of those mitts. As adults, we tend to like our finders free but as the warmth of mitts, fingerless gloves are the perfect compromise.
These super cute Crochet Wavy Long Wristers Pattern was Designed by Lorna Miser using Red Heart Heads Up these Wristers would be a good craft show item and a good project for those leftover yarn bits.

Crochet Chunky Fingerless Gloves Pattern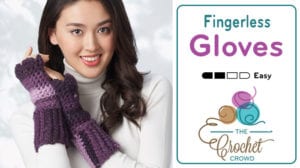 This Crochet Chunky Fingerless Gloves Pattern is super cute and really easy. These Chunky Fingerless Glovers would undoubtedly match any hat, cowl and/or boot cuff pattern that you want to make up. Their a great little thing to throw in your bag to take along with you anywhere, when you don't always think to grab a pair of gloves on the way out the door your thinking ahead already had you covered!
The Crochet Chunky Fingerless Glove Pattern was designed using Bernat Bargello, that yarn is now discontinued, but you can easily substitute for any chunky yarn or two worsted weight yarns together.


Crochet Warm Ribbed Boot Cuffs Pattern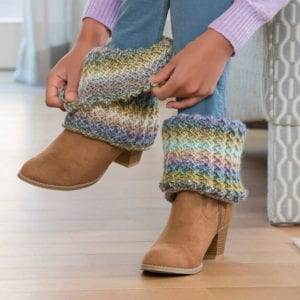 On to the toe area of the Head-To-Toe, I absolutely love this Crochet Warm Ribbed Boot Cuffs Pattern I want to make one in every colour that I make a hat in to match them, Their just so cozy looking and fun not to mention keeping your ankles warm, always a bonus.
The Crochet Warm Ribbed Boot Cuffs Pattern was Designed by Bendy Carter using Red Heart Boutique Treasure, the yarn is just so pretty, and even the name sounds super fancy what's not to love. If you have someone who wears low boots a lot this would be an awesome gift to say your thinking of them.

Crochet Bulky Boot Cuff Pattern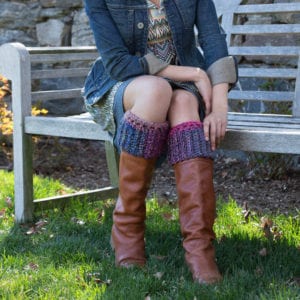 This Crochet Bulky Boot Cuffs Pattern is a great style of boot cuff if you are wearing the taller style, for under the top of the boot around the calf. The Warm Ribbed Boot Cuff style is better for the shorter style of boot to wear over the top this one is great for under. Either boot you wear either style you like we have you covered with these super easy Boot Cuff patterns your friends will be asking you to make them a set.
The Crochet Bulky Boot Cuff Pattern was Designed by Salena Baca using Red Heart Medley that's another very pretty yarn that would go well with the Chunky Fingerless Gloves Pattern and a nice slouchy hat pattern, another great craft show item.

Pattern Suggestions
More Ideas