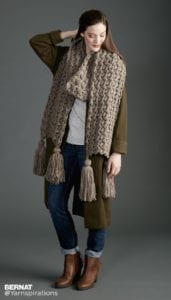 Crochet Pump Up the Volume Scarf
The Pump Up the Volume Scarf is an easy Super Scarf by Yarnspirations. You will see the pattern is simply one page and is very simple to work up.
It consists of an easy repeating row to make up this 100" long scarf. It is thick and chunky. It will hook up quickly. You can opt to have the tassels or remove them. It's up to you. You are the creator.
The pattern is a great one if you are looking for gift ideas, or work up one for yourself I know I love big cuddly scarfs when it's colder out, the Pump Up The Volume Scarf is also a nice size to have around when the sun goes down on a warm day and it's a little chilly you just want a little something over your shoulders.


More Patterns
Try this easy scarf and be in trend for Fall / Winter 2016 as bulky and super long scarves are in trend.
Included in the video below are ways to wear this scarf.
Tutorial
9 Ways to Wear a Super Scarf
More Scarf Patterns