Reading Time:
6
minutes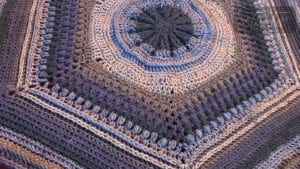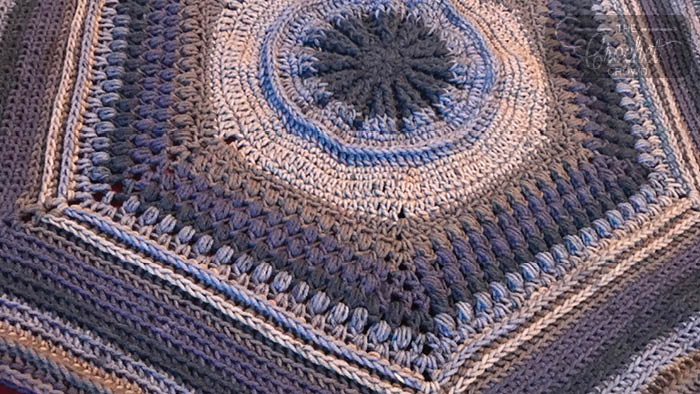 Crochet Study of Texture Second Semester
Coming this summer is the next summer school. Last summer, was the first time for the concept and was accepted with raving reviews. It challenged many, including myself. Throughout the summer, we worked on the course together. By Labour Day, we had finished it.
This summer, the concept is originating from a circle to a hexagonal concept. With stitches to learn and watch grow throughout the summer.
Like before, we have a theme and it is The Study of Planet Earth. Timed with a message about the inner core to the mantle to the crust and more. With human impact on this beautiful marble we call home.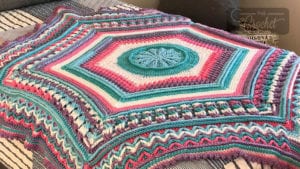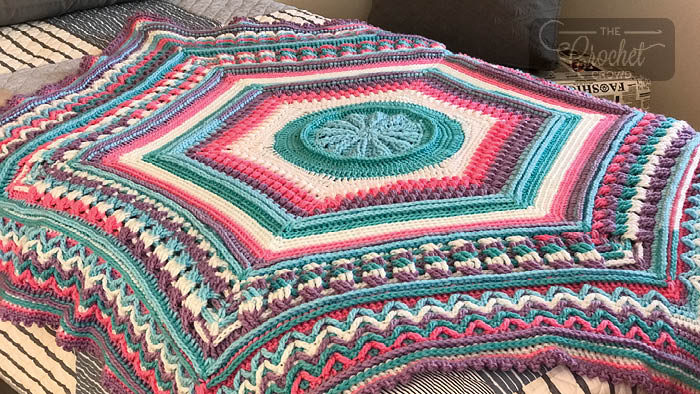 Materials Needed
5.5 mm / I Hook
9 Balls of Bernat POP! but get 10 balls as you may want to control some colour changes.

10 balls –

140g , 256 meters / 280 yards

= 2800 yards

.
Prototype was created in Caron Big Cakes, you need 4.5 balls of Caron Big Cakes if you so desire.
Afghan Details
The afghan is 48″ across the flat edges.
The afghan will be presented over 7 weeks.
Unofficially starting July 8th, 2019. To be confirmed.
Video Introduction
Week 1
Week 2
Week 3
Week 4
Week 5
Week 6
Week 7
Earth Fun Facts
Planet Earth is the third planet from the sun. It's unique to our solar system to support our lifeforms relying on oxygen and water. It is the 5th largest planet and has a unique tilt of 23.4 degrees creating our seasons. Earth has a wobble that changes the direct light of our sun within a 365 cycle around the sun. It favours the north for 6 months and then the south for 6 months. It gives the cycle of Spring, Summer, Fall and Winter to most of us not residing at the equator. The wobble assists in creating our wind with the oceans and land temperatures changing.
Testing Samples
My pattern was tested by Wendy, Diane, Anita, Donna, Michele and triple tested by me. Also review intensely by Svetlana, Yarnspirations Design Team. Unfortunately, we may have overlooked mistakes but are aiming for 100% accuracy.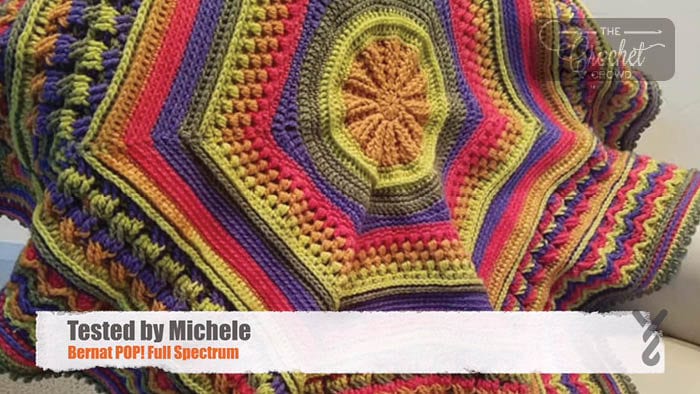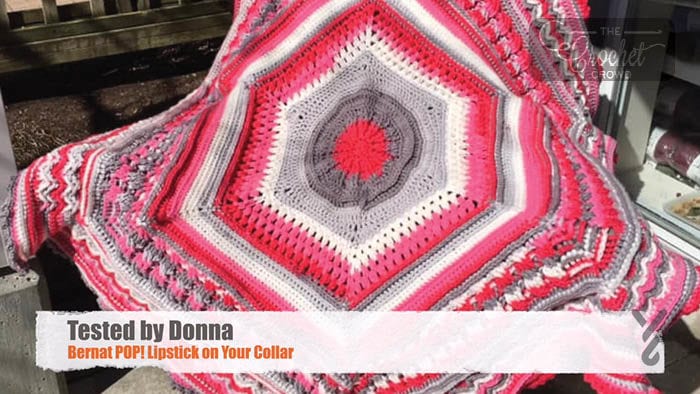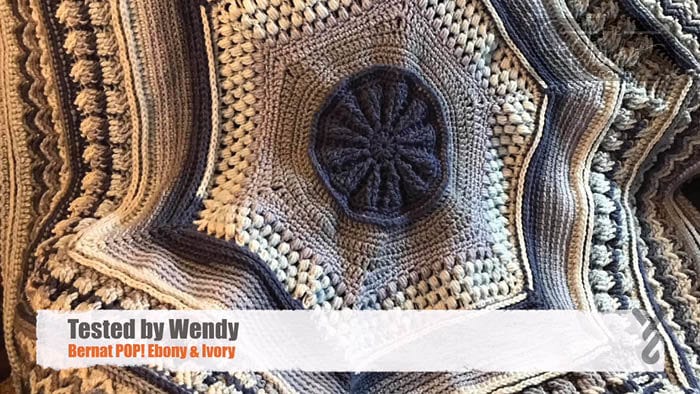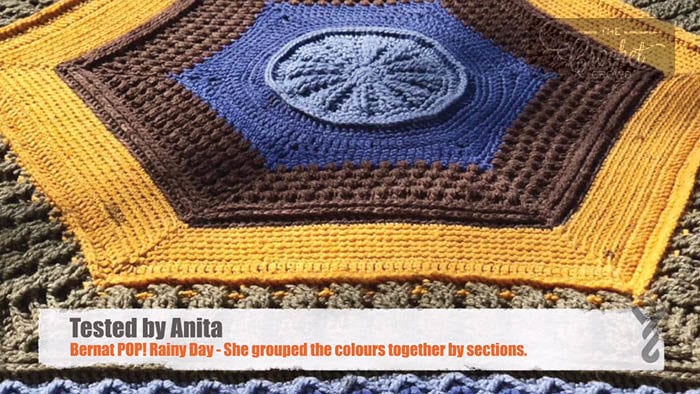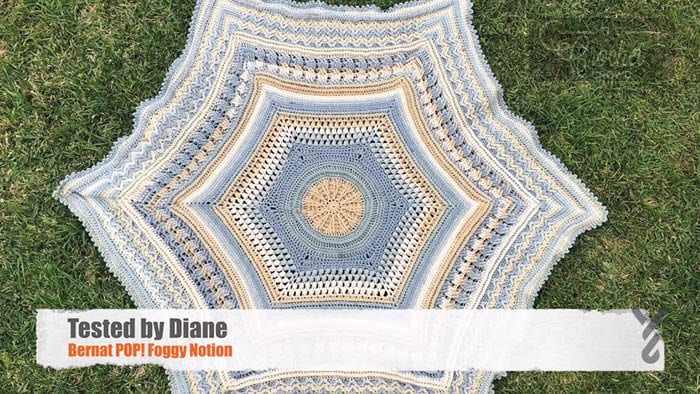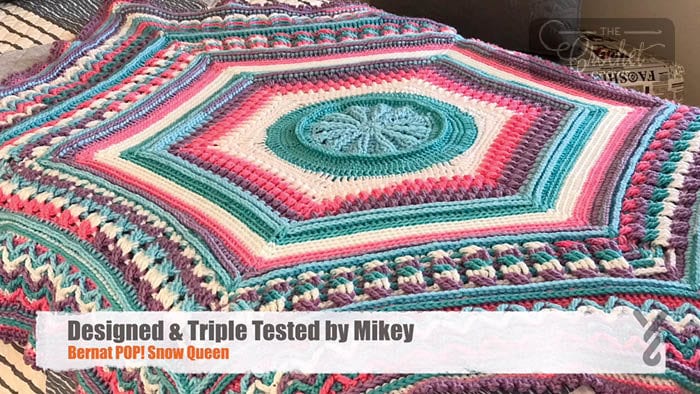 Giveaway
We have 5 Crochet Crowd Tote Bags with Happy Hooker Pins loaded with yarn to giveaway. To enter, this is what you need to do:
Submit us a finished photograph of your Study of Planet Earth Afghan.
You can use any yarn you wish as long as you follow my pattern.
Each afghan you finish qualifies for 1 entry. If you complete more than 1, you can have more entries.
Prizes are both from Yarnspirations & The Crochet Crowd.
General Guidelines
There is no sign up required to participate. Complete the project and email your photo when you are done. This challenge is open to all Crochet Crowd Community Members.
You may use any yarn you wish. You may create any colour scheme. Use as many or as little colours as you prefer.
You may do as many projects as you wish. If multiple entries are identical, a picture showing the projects together to prove there are multiple must be included with your submissions.
We require your photo to show the entire project so we know the entire project is done. Ensure your project is completely finished with yarn tails and etc not showing. It's like giving it out as a gift, we want to see the photo showing as if you were gifting us the finished product. This way we know you are completely done.
If you are changing your hook size or yarn, we are still looking for the pattern to be the same.
All photos must be submitted during the challenge time frame only. Entries after this due date will be accepted for our gallery but there are no prize giveaways after the deadline.
Your Choice: Post your finished project on The Crochet Crowd Facebook Page to show everyone your finished work so we can drool over your creativity.
When you email your finished photo to us, we respect your privacy and will only post your first and last name on the picture in our gallery with the photo so we can identify the winner at the end.
Featuring on Facebook is dependent on you. We do not upload your emailed photos to Facebook. You have to do that yourself if you want to Show N Tell your creativity.
We are not responsible for undelivered email and/or late entries to qualify for the prize.
Due to the countless technology platforms and services, we are not responsible for any of our challengers if mobile devices or technology that isn't compliant to being able to read our website, view our videos and/or get access to the free patterns.
All applicable federal, state and local laws and regulations apply. Void where prohibited or restricted by law.
Please verify your entry is in our gallery prior to our draw. We need up to 4 days to get your entry into our gallery. We upload it ourselves as part of our review process. If you do not see your entry, we most likely haven't received your email. Do not wait until after the draw to check if your entry is in. 
This is intended for a fun community challenge only. We each are deserving of the highest praise possible for our own creativity. Let's have fun.
How to Submit
Please read the guidelines below to understand what we are looking for.
Send your photo to us through email to [email protected]
Use Subject Line: Study of Planet Earth
In the email leave us the following information.

Your Full Name
Your Mailing Address

We will not be adding your name or email to our database.
We are accepting entries from August 19, 2019 to September 30, 2019 at 11:00 pm ADT. Winners will be drawn Oct 5th, 2019. 
You can email any time. 
We will email you if something is questioned in your photo.
You will not hear from us if your email didn't get to us. So if you don't see your entry after 4 days of submission, it means we haven't received it.

Please give us at least 4 days to enter your picture into the gallery.

It's a manual review process.
Other Crochet Alongs We Have Hosted