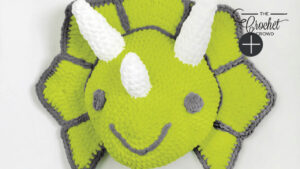 The Crochet Taxidermy Triceratops Wall Mount is meant to be a fun little item for a nursery. It's not as big as it appears but you can see more photos on the pattern landing page.
Plush and inviting. It allows you to be a bit more creative with your crochet hook to decorate that special nursery or whatever ideas you may have in mind.
More Ideas

Tutorial
Not available at this time.
More Collections