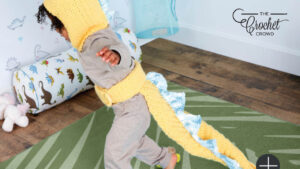 The Crochet Hat and Dino Tail is a play costume for kids. Allow active imagination play. Using Forever Fleece Finer for softness with modern colours.
Sized for as small as 12 to 18 months and then 2 to 4 years of age. The hat is like baklava and the tail just straps around the waist.
Active imaginations are important for any age.
More Ideas

Tutorial
Not available at this time.
More Crochet Hats