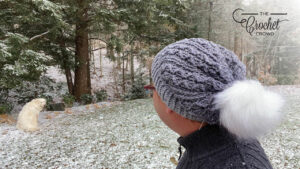 The Crochet Cable Twists Hat is designed for adults and children between the ages of 6 to 10 years of age. You could be matchy-matchy with someone in your life.
I don't feel this design has a particular gender. Mine is using the Red Heart Roll With It Sparkle in the Diamonds Colour.
The stitch multiple is in sets of 10 chains. You may be able to change the size to a smaller child but I will leave that to you.
This is deceptively easier than it looks.
More Ideas

Tutorial
More Crochet Hats