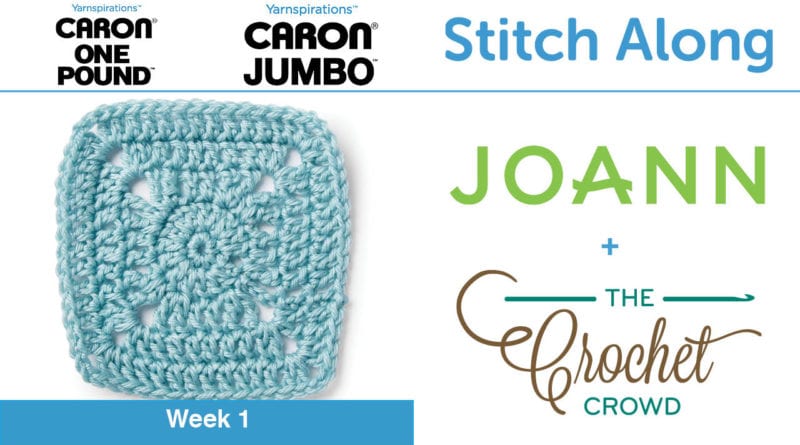 Stitch Along: Crochet Spring Garden Afghan + Tutorials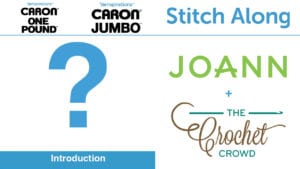 Crochet Spring Garden Afghan
Welcome to the Crochet Spring Garden Afghan Stitch Along with our friends at JOANN Fabric & Craft Store. We have a 5 week Stitch Along that will consist of 3 weeks of making your squares. On the 4th week we will assemble your squares and then final border on the 5th week. Once the last clue is released, we will open up the Stitch Hall of Fame of accepting your emailed photos of your finished afghans for a chance to win 1 of 3 fully loaded yarn totes.
Design Considerations
There is no sewing involved in this afghan. Yes, you saw that we are doing squares. They are NOT sewn together.
The yarn colours shown are part of a brand new extension of Caron One Pound, exclusively available at JOANN. It's called Caron One Pound Calico Collection and Caron Jumbo Calico Collection. There are only 4 balls required for this afghan that is 45″ x 55″ rectangle.
There are 3 designs of squares. The 3 squares types form a design. Below you will see potential layouts. The upper left of the picture is the suggested layout.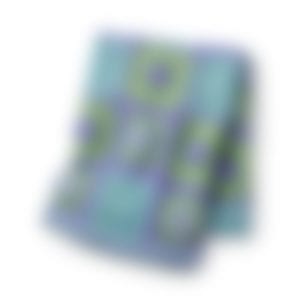 Mikey's Tips
Now that you see the layouts of what you can do with this design, you may want to have fun and graph up different layouts that you think would go best in your blanket. Just know this, if you change the square counts, it could impact how much yarn you use.
Each square design is exact same colour for the set. It works well in the design. However, this is your spring garden, I wouldn't be scared to make your sets in different colour options. For example, in week 1, we need to make a set number of regular solid grannies. It suggests they are all the same colour. You may want to think about your design and make the squares in different colours. In the future weeks, the same thing, the floral designs thrown at you, each flower can be a unique colour too to really make it pop. I know that this afghan has potential to be really subtle but also the loud wild garden. Decide what works for you.
I want you to express your personal creativity in the design colouring. Use each other as inspiration throughout the stitch along.
Suggested Design Layouts
You are welcome to save, download or print the suggested layouts so you can plan your afghan in advance. The designer has selected the upper left version for your design. I had Daniel come up with other options without impacting the yarn quantities.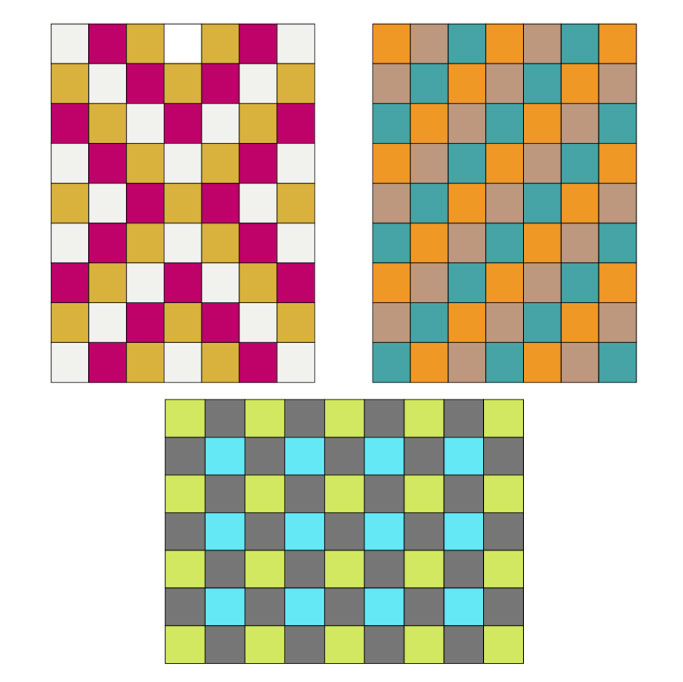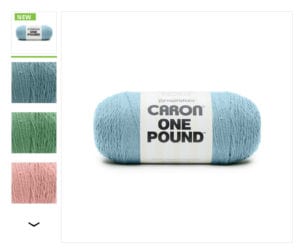 New Caron One Pound Calico Yarn
The designer had fun with a new colour extension of Caron One Pound yarn. This is the Caron One Pound Calico Collection. It's a fresh look at soft spring colours designed to more neutral in your home decor.
As you see the materials list below, you will see the new Caron Jumbo Calico Yarn that is the variegates family of Caron One Pound.
To maximize how much yarn you will use, the designer has carefully considered the colours. Each version looks really nice and may fit in your home decor beautifully. If you want to use more colours than the 4 suggested, it would most likely give your afghan another boost of visual appeal.
Week 1 Right and Left Handed Versions
Materials List
Click the list to download, save or print. Take it with you.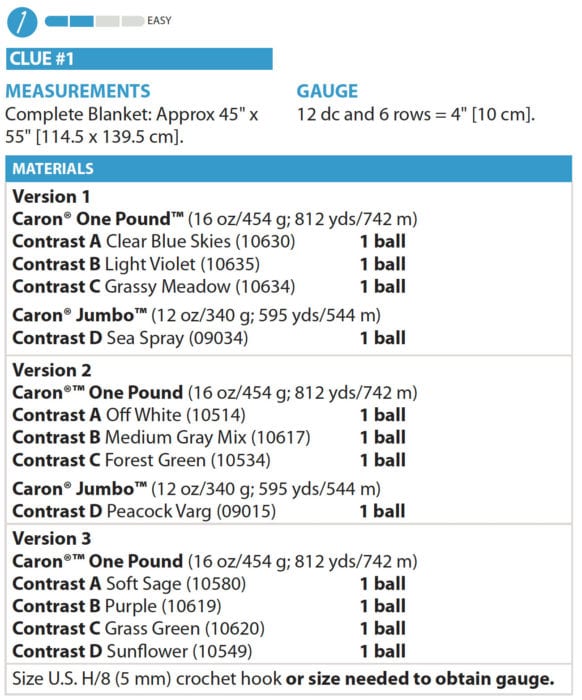 I am scheduled to get the Stitch Along Pattern by the end of January to see it for the first time. I know the concept they are aiming for, but I haven't seen the design yet.
Just in time for spring, keep your eyes peeled for our updates coming later this winter as we head to Spring together with a new Stitch Along.
Support and Community Spirit
We have a dedicated group on Facebook that is supported by community members, like you, and officials to offer support throughout the stitch along. It's a great place to show your wips as you progress. Join the Free Yarnspirations Stitch Along Group to participate.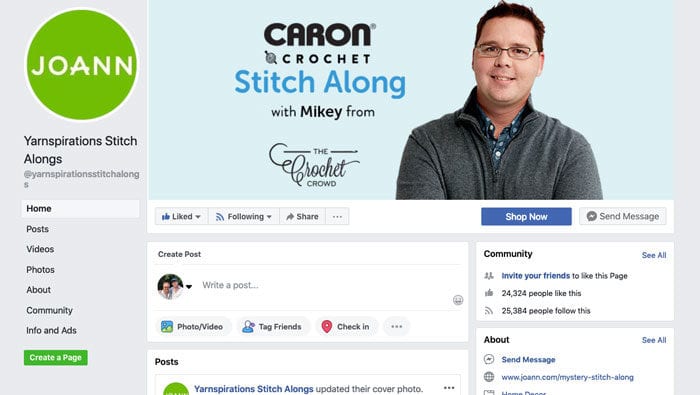 Dates of Releases
Week 2 – April 1st – 2nd Set of Squares
Week 3 – April 8th – 3 Sets of Squares
Week 4 – April 15th – Assembly
Week 5 – April 22nd – Final Border
Giveaway Starts April 22nd – May 30th for Submissions for prizes shown below.
Giveaways at The End
When we get to the last week, I will tell you how to email a picture and show us your finished blanket. Three lucky random winners will receive a fully loaded Crochet Crowd Tote. Afghan must have the same number of squares as indicated in the pattern. You are welcome make the afghan bigger but out of fairness, we will not accept smaller versions, square wise.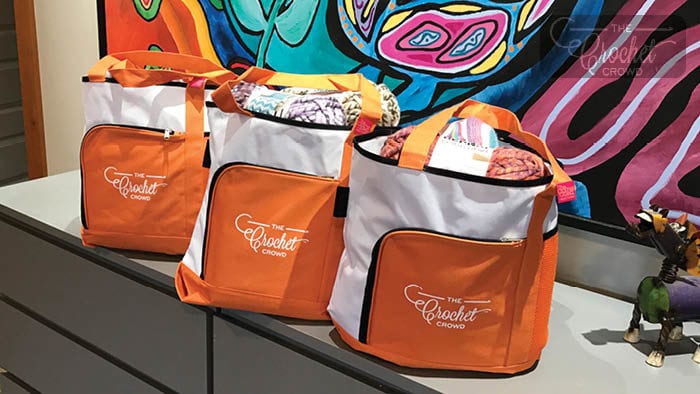 I don't know any details for yarn at this time, I know people are wanting to know that information. As soon as we are ready, I'll update this area.
General Guidelines
There is no sign up required to participate. Complete the project and email your photo when you are done. This challenge is open to all Crochet Crowd Community Members.
You may use any yarn you wish. You may create any color scheme. Use as many or as little colours as you prefer.
You may do as many projects as you wish. If multiple entries are identical, a picture showing the projects together to prove their are multiple must be included with your submissions.
We require your photo to show the entire project so we know the entire project is done. Ensure your project is completely finished with yarn tails and etc not showing. It's like giving it out as a gift, we want to the see the photo showing as if you were gifting us the finished product. This way we know you are completely done.
If you are changing your hook size or yarn, we are still looking for the pattern to be the same.
All photos must be submitted during the challenge time frame only. Entries after this due date will be accepted for our gallery but there are no prize giveaways after the deadline.
Your Choice: Post your finished project on The Crochet Crowd Facebook Page to show everyone your finished work so we can drool over your creativity.
When you email your finished photo to us, we respect your privacy and will only post your first and last name on the picture in our gallery with the photo so we can identify the winner at the end.
Featuring on Facebook is dependent on you. We do not upload your emailed photos to Facebook. You have to do that yourself if you want to Show N Tell your creativity.
We are not responsible for undelivered email and/or late entries to qualify for the prize.
Due to the countless technology platforms and services, we are not responsible for any of our challengers if a mobile devices or technology that isn't compliant to being able to read our website, view our videos and/or get access to the free patterns.
All applicable federal, state and local laws and regulations apply. Void where prohibited or restricted by law.
Please verify your entry is in our gallery prior to our draw. We need up to 4 days to get your entry into our gallery. We upload it ourselves as part of our review process. If you do not see your entry, we most likely haven't received your email. Do not wait until after the draw to check if your entry is in. 
This is intended for a fun community challenge only. We each are deserving of the highest praise possible for our own creativity. Let's have fun.
Stitch Alongs from Our Past