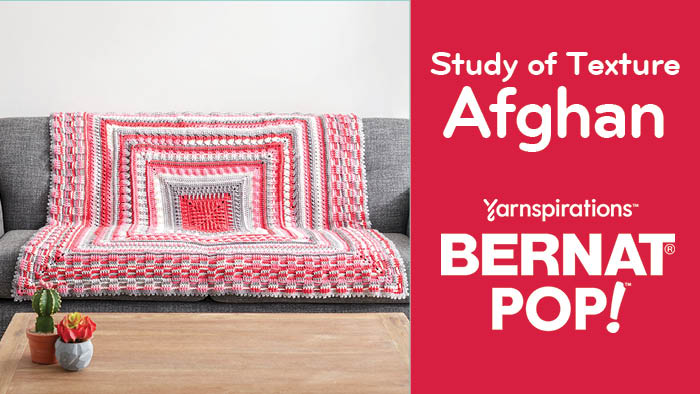 Crochet The Study of Texture Blanket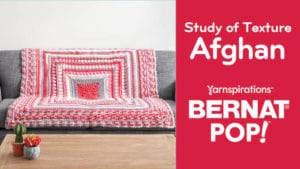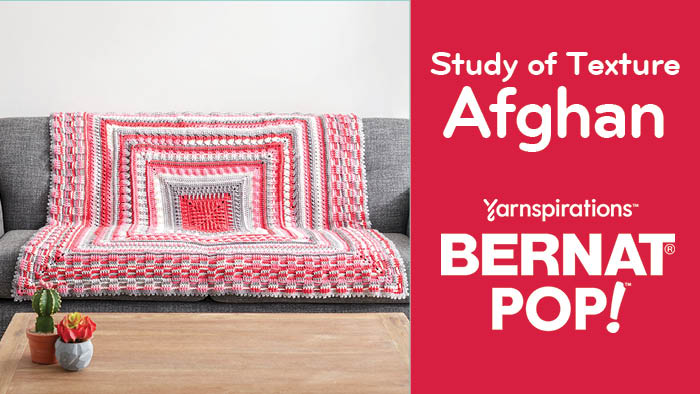 The Study of Texture Stitch Along
Welcome to Summer 2018 as we embark on Summer School together with an 8 week Stitch Along Program with our friends at Yarnspirations.
The Stitch Along uses 10 balls of Bernat POP! yarn. Latest new colours were just released on Yarnspirations.
Bernat POP! can be found at Walmart but the latest colours that are out are exclusively on Yarnspirations Website at this time but will trickle to the stores in the next few weeks. Getting 10 balls may be difficult at the retail store, so you can skip the hassle and just order through Yarnspirations Website to make it easier from Yarnspirations direct to you through UPS Courier.
Each clue will be released on Monday until August 27, 2018. As they become available, the tabs will allow you to click onto them.
Tutorials
My version on video tutorial is Bernat POP! Blue Chambray.
Additional Giveaways
Yarnspirations is giving away a $100 yarn prize; however, The Crochet Crowd is giving away and additional 5. The additional prizes will receive an official Yarn Tote, yarn and official Crochet Crowd Pin.
You are to finish the Stitch Along as shown in the photo and written pattern. Though we have had some errors in the pattern, the pattern must resemble closely to the original. Helpful tips are being given on Facebook where errors are discovered.
General Guidelines
There is no sign up required to participate. Complete the project and email your photo when you are done. This challenge is open to all Crochet Crowd Community Members.
You may use any yarn you wish. You may create any color scheme. Use as many or as little colours as you prefer.
You may do as many projects as you wish. If multiple entries are identical, a picture showing the projects together to prove their are multiple must be included with your submissions.
We require your photo to show the entire project so we know the entire project is done. Ensure your project is completely finished with yarn tails and etc not showing. It's like giving it out as a gift, we want to the see the photo showing as if you were gifting us the finished product. This way we know you are completely done.
If you are changing your hook size or yarn, we are still looking for the pattern to be the same.
All photos must be submitted during the challenge time frame only. Entries after this due date will be accepted for our gallery but there are no prize giveaways after the deadline.
Your Choice: Post your finished project on The Crochet Crowd Facebook Page to show everyone your finished work so we can drool over your creativity.
When you email your finished photo to us, we respect your privacy and will only post your first and last name on the picture in our gallery with the photo so we can identify the winner at the end.
Featuring on Facebook is dependent on you. We do not upload your emailed photos to Facebook. You have to do that yourself if you want to Show N Tell your creativity.
We are not responsible for undelivered email and/or late entries to qualify for the prize.
Due to the countless technology platforms and services, we are not responsible for any of our challengers if a mobile devices or technology that isn't compliant to being able to read our website, view our videos and/or get access to the free patterns.
All applicable federal, state and local laws and regulations apply. Void where prohibited or restricted by law.
Please verify your entry is in our gallery prior to our draw. We need up to 4 days to get your entry into our gallery. We upload it ourselves as part of our review process. If you do not see your entry, we most likely haven't received your email. Do not wait until after the draw to check if your entry is in. 
This is intended for a fun community challenge only. We each are deserving of the highest praise possible for our own creativity. Let's have fun.
How to Submit
Please read the guidelines below to understand what we are looking for.
Send your photo to us through email to inquiry@thecrochetcrowd.com
Use Subject Line: Summer Stitch Along
In the email leave us the following information.

Your Full Name
Your Mailing Address

We will not be adding your name or email to our database.
We are accepting entries from August 27, 2018 to Sept 30, 2018, 11:00 pm ADT. Winners will be drawn Oct 7, 2018. 
We will email you if something is questioned in your photo.
You will not hear from us if your email didn't get to us. So if you don't see your entry after 4 days of submission, it means we haven't received it.
Submission Galleries
We require at least 4 days of processing time to accept, review and enter your pictures into our official galleries. Unfortunately, due to things we cannot understand, we don't always receive emails as our server may not receive your email and/or emails can get lost in cyber space. In the event after 4 days you don't see your entry put into our gallery. Kindly email us back with the picture once again. If your entry doesn't qualify, we will contact you. The chances of your picture not in our galleries is most likely your email not being received.
Inspiration
In returning back from a Crochet Cruise where we examined Mandalas, I was intrigued about the idea of reviving an old afghan that I free formed. I had complications in the free-formed version and improvised at points that are not able to be duplicated as there were tweaks here and there. So what does a crocheter do? He improvises pulling what worked in the afghan and then adding more to it.
The entire afghan took me 170 hours to design. Biggest challenge for me was to know what to say "When". Meaning simply, when there is too much detail that it will get way more complicated than it needed to be. As I designed, I didn't know my next steps and allowed the project to form. Plenty of frogging, redoing and etc. Tons of stitch counting and double checking.
The afghan is a solid one piece. So for those who think it's a granny square afghan, that's not true in this case. I know many of you prefer not to sew. So it's a one piece, grow as you go. The afghan is square.
The colouring comes directly from the ball, but I will share some intentional colour manipulation to ensure when you jump from ball to ball that you don't end up with a peak a book colour. You won't waste any yarn, but if you are strategic, you won't have any parts of the afghan that are looking out of place.
This afghan is Country Fair Challenge Worthy. I won't guarantee you will win a blue ribbon, but I have seen blue ribbons given for far less challenging projects.
Questions About the Pattern
Any specific questions you may have may also be answered through the Yarnspirations Stitch Squad Facebook Group too.
Yarn Substitution
If you are choosing not to use Bernat POP! you may use any other yarns you wish. However, everyone should do a gauge check in Week 1. It matters as there is so much texture that tension matters. So don't skip this part as in the future, it could be the difference of your afghan sitting flat or ruffling up or buckling on you. You cannot have all those delicious textures without double checking yourself at the very beginning.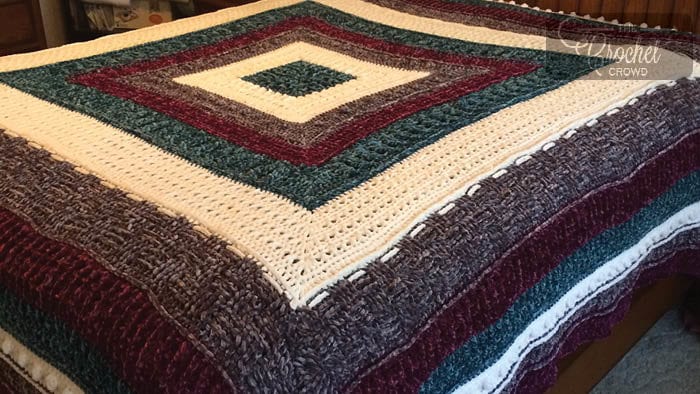 Get Your Weekly Clues Here
All clues are on the same page, you can get ALL CLUES HERE, they are released each Monday until August 27th, 2018. You can also click the PINK GET PATTERN BUTTON at the top of the article to also get all clues
Other Stitch Alongs We've Done That Are Finished