Crochet Something Cozy Patterns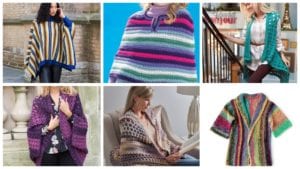 I'm done with craft shows and Christmas presents for a minute. Well, I feel like I should be crocheting something I can't not be doing something my hands feel bored, but I don't know what. Do I start on gifts again or work on craft show stuff? Well it's snowing and I have been wanting to make my self something but I need some inspiration.
Does this sound familiar to you? this is me every year when the new year begins I always say this is the year I'm going to actually make my self something! I went looking through the mountains of patterns and ended up with pages of things I want to make now. These are a few of my favourites among the many and I thought I would share them with you!
---
Crochet Sand & Ocean Poncho Pattern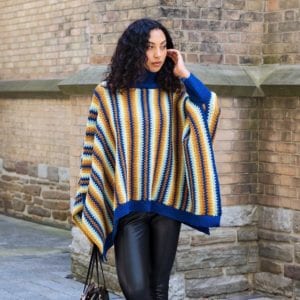 The second I saw this poncho I knew it was one I would have to make myself  I absolutely love it, but then I saw the name of it Ocean Crochet Poncho how perfect! Instantly I printed it and had a couple of different yarns in mind to make it. I have been pretty excited about a couple of patterns before but this one is one of those ones I can't wait to get started and even more excited to wear once I'm done. This is not one the kids are stealing from me this time.
This awesome Sand & Ocean Poncho was designed by Svetlana Avrakh she made it using Patons Classic Wool Worsted. I love that it's one piece that you just have to add the cuffs and collar too, I don't have to make 2 and sew them together, I never seem to get my rectangles the same size, this is why I avoid slippers like the plague. I really think this poncho will look pretty in and colour combinations, and Diva Dan just happened to make up that list so there are all kinds of options for you all to try, I want to see them all!!

---
Crochet Cool Poncho Pattern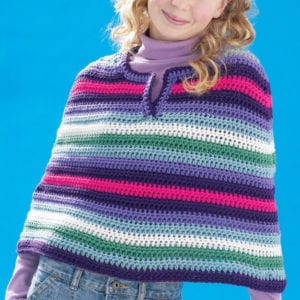 I made one a lot like this Crochet Cool Poncho Pattern the kids' version for my middle child, would it be weird if I made a matching one for my self? I love a poncho although I think this is more a capelet than it is a poncho, either way, I love it. The Cool Poncho is one that I'd like to attempt with my yarn ends that I have leftover I think this is a project it would look cool with. I have more than enough bits left over to give it a try.
The Cool Poncho Pattern has instructions from XS to 5X which is pretty exciting. Done in the round there's no seaming when you are done so that's also a bonus. The pattern is worked from the bottom up it would be easy to adjust your length if you wanted it longer or shorter. This Cool Poncho pattern is made using Bernat Super Value as well as Bernat Satin.

---
Crochet Cozy No-Seam Vest Pattern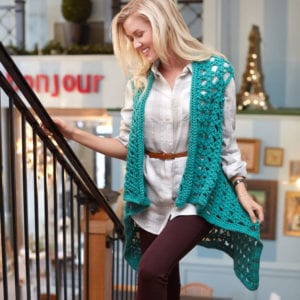 I love this Crochet Cozy No Seam Vest Pattern and I just realized I have the yarn to make it too. This vest is one of those practical pieces when you're going out with friends or running to town and you want a little something to wear over the tank top or tee that you are wearing, this is the perfect piece to have in a few different colours in your closet, it will go great with black leggings or if you wanted something for over your bathing suit it really is a great anytime piece.
The Cozy No-Seam Vest Pattern was Designed by Kristi Simpson, made using Red Heart Soft, there are some really lovely colours in that line that this vest would look perfect in. It's a simple rectangle so it would be really easy to make it any size you need it to be, it's a simple shell stitch which works up to look very pretty in this vest.

---
Crochet Colossal Shrug Pattern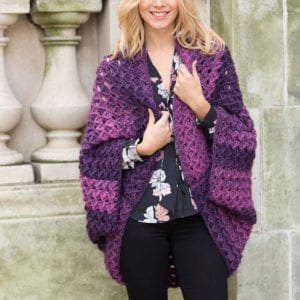 I don't know what it is about shrugs that I love so much but I do, I own a shameful amount, most are ones that I have bought before I knew how to crochet, but now that I know how to and love to, I fear my closet may become a shrine to the shrug. You take a rectangle using a pretty stitch and your favourite yarn and yarn colour with a few stitches you have this wonderful new piece of clothing that you feel so cozy in when you wear it, you can literally make it in any size to fit anybody. What is more perfect than that. Not going to lie my very first attempt at a shrug I didn't know the importance of the right rectangle size, boy does that make a difference, who knew! haha, Size really does matter.
The Crochet Colossal Shrug Pattern was Designed by Tammy Hildebrand and was made using Red Heart Boutique Infinity. That yarn is so pretty the Shrug will be so lovely made up in it!

---
Crochet Wrap-ture Shawl Pattern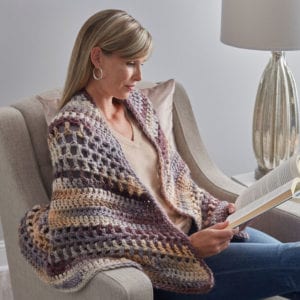 Shawls were another lovely creation that I love, really I just think I love all things cozy! Shawls are lovely for tossing over your shoulders when you don't want to wear a sweater cause it's not quite that cold. There are shawls for any occasion from weddings to just hanging out by the fire, shawls have you covered! This Crochet Wrap-ture Shawl Pattern is definitely one you should add to your project list!
The Wrap-Ture Shawl Pattern was Designed by Edie Eckman and was made using Red Heart Evermore. It's not a yarn I have personally used or I don't think I've even personally seen the yarn so make sure if you use it to post photos because I would love to see your shawls worked up in it!

---
Crochet Easy-To-Wear Cardigan Pattern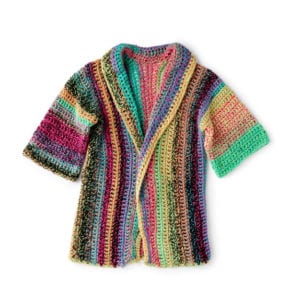 The first thing that caught my eye with this Crochet Easy-to-Wear Cardigan Pattern was the length of the sleeve. If you're anything like me you're always pushing those sleeves up so the length of the sleeve for this cardigan really appealed to me, personally I'd probably make mine a little longer if I make this for myself, because I like my tops on the longer side.
The Easy-To-Wear Cardigan was Designed by Tammy Hildebrand, made using Red Heart Roll With It Tweed. I have only seen this yarn in the ball, I have one myself that I haven't used yet, it was pretty but I had no plans for it yet. Now that I see it worked up in this Cardigan pattern I'm pretty excited about it and may have to pick my self up some more of it to play with making up this pattern.