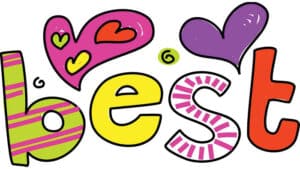 Most of the choices are independent bloggers who are beating to their own rhythm and many are maintaining their own communities. The ranking is done based on internet traffic, social media followers, domain authority and freshness of content. This is automatically generated.
While we teach on behalf of Yarnspirations, we maintain our own flow for what works for our community base.
The Crochet Crowd, us, has been in the #1 position for a few years and the work involved in keeping the blog updated and social and analytical challenges is a real challenge. I can beat myself up over things I miss or sudden changes due to algorithm shifts.
Some hosts come and go but many are in it for the long term. It gets exhausting and so this ranking can shift if a host is a pedal to the metal versus an established host sitting back for a bit to recoup. I get the mental exhaustion and it's tough some days.
---
#1 – The Crochet Crowd
The Crochet Crowd focuses on home decor and easy-to-make items. We are catering to the new crocheter and expand up to intermediate levels. You are currently on our site but you may have missed what people are looking at the most.
---
#2 – Moogly Blog
Moogly makes crochet a lot of fun and she certainly has the passion for the yarn artst. She makes it approachable and is really particular on her style. Having met her once, she's super organized and the blog shows that. Don't miss these blogs by Moogly:
---
#3 – Repeat Crafter Me
Sarah has the uncanny nature of making something so ordinary to become extraordinary with cuteness. So sweet it can possibly make your teeth hurt. She incorporates her kids as part of her models and has a beat on today's young moms. Don't miss these blogs by Repeat Crafter Me.
---
#4 – Petals and Picots
A beautiful welcoming home page with not a question that you have landed on a site that will inspire you. Soft photography could melt your creativity into a big ball of goo. Easy to work and don't miss these blogs by Petals and Picots:
---
#5 – Pattern Paradise
Most of us long-timers online in this category have seen Pattern Paradise over the years. What's not to love by the slew of patterns they offer. Check out these blogs not to be missed:
---
#6 – Whistle and Ivy
A top leader is usually pretty close to the top position. Her website speaks for itself on the feelings of inspiration it can present to you. Excellent photography and inspiration to delight your senses. Not to be missed blogs by Whistle and Ivy are:
---
#7 – Craft Gossip
A wide range of creativity spawning ideas with sewing, knitting, crochet, home and garden, upcycling and so much more. A slew of information to overwhelm your creative mind to be sparking all over the place. Not to be missed blogs are:
---
#8 – Jimmy Beans Wool Blog
From our friends at Jimmy Beans Wool out of Reno, Nevada. Their blog has extra attention to tips and details that professionals would give. Jimmy Beans is elevated in the yarn craft from using independent yarns. Jimmy Beans focuses mainly on knitters but their yarn is so scrumptious that us crocheters can have a crack at them too. Blogs not to be missing are:
---
#9 – Crochet 365 Knit Too
Cheryl is the leader of this pretty website called Crochet 365 Knit Too. Big and easy to see photography to make surfing through easy and I can see why she's up there the ranking. Check out some of these blogs by Crochet 365 Knit Too:
---
#10 – Wool Pattern
Sliding in 10th position is Wool Pattern which is a site I haven't seen before. Quick and functioning site to guide you through the patterns. Easy to see pictures to inspire you further. Check out some of these blogs by Wool Pattern:
---
#11 – Oombawka Design Crochet
Oombawka Design Crochet is a continuous leader in crochet inspiring us with her perspectives on ideas. Excellent menu system to click through and narrow down your ideas. Check out these blogs by Oombawka Design Crochet:
---
#12 – Truly Crochet
Truly Crochet is a new site I haven't seen before and it's easy to read and follow throughout the site. Non-cluttered picture driven to make those choices for your next project. Check out these blogs by Truly Crochet.
---
#13 – Nicki's Homemade Crafts
Nicki is from the west coast of the USA and has patterns that are for everyone. Presented in a professional and ready-t0-go manner so you can get started right away. She also does bundles for a nominal fee. Check out these blogs by Nicki's Homemade Crafts:
---
#14 – Attic 24
Lucy from Attic 24 slides into 14 positions with her colourful approach to crochet. Love her creative space. A site is definitely worth putting on the tea kettle and see what lurks within. Don't miss these blogs by Attic 24:
---
#15 – Joy of Motion Crochet
The Joy of Motion Crochet by Janne is next up with a clean beautiful website to temp your crochet hook. Easy to surf through the website and fabulous dynamic searching on her site. Don't miss these patterns by Joy of Motion Crochet:
---
#16 – Daisy Farm Crafts
Tiffany and Hannah from Daisy Farm Crafts really pump out incredible content and specializing in a lot of gingham ideas. Very engaging women. You cannot miss these blogs here:
---
#17 – Lacy Crochet
Superfine details and heirloom quality patterns to discover with Lacy Crochet. For those looking for the elevated versions of crochet including a doily and thin yarn stitchwork, this may be your blog to visit. Check out these not to be missed patterns:
---
#18 – Marly Bird
Marly is dynamic in her approach of not only being a brand on her own by also the machine power behind the scenes that keeps her creativity in balance. Dual stitching of knitting and crocheting. She's really detailed in her approach of education and it comes across. Don't miss these blogs by Marly:
---
#19 – PlanetJune Blog
I haven't seen June before and welcome her to the top 20 of blogs. She is a fellow Canadian, like me. Beautifully laid out the website to inspire you. Don't miss these articles by June.
Crochet Amigurumi Apples Pattern (really well done)
---
#20 – B.hooked
Styled to be very professional and upscale in look. The host, is really particular on details and her blog is beautifully presented keeping you 'hooked' on what is next. Very approachable in the YouTube category as well. Don't miss these amazing blogs by B.hooked.
More Collections