Loving Hearts Shawl Pockets Idea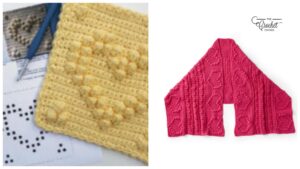 By now I'm sure most of you have seen Jeanne's pattern for the really cute Crochet Double Bobble, Heart Square. If you haven't you defiantly should, there are quite a few things you can potentially do with this square. One Idea that Wendy mentioned was it would be a cute idea for pockets on a shawl, especially where those are quite popular right now. I happened to come across a shawl that I thought it would be absolutely perfect for. Create your own unique pocket shawl with Jeanne's Bobble Heart Square and this Loving Heart Shawl.
The Bobble Heart Square is 9" x 9" for sizing reference.

Work up this Loving Hearts Crochet Shawl in your favourite colour. Then work up 2 of the Bobble heart squares, one for each side. Attach them to the center on either narrow end with a whip stitch. You can then add tassels of fringe or leave it as is.  Personally I'm a fan of the tassels. If anyone works this up I would love to see photos of it assembled.


Pattern Suggestions
More Pocket Wraps
No post was found with your current grid settings. You should verify if you have posts inside the current selected post type(s) and if the meta key filter is not too much restrictive.