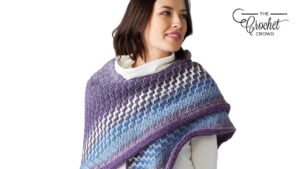 The Crochet Sparkle Mosaic Shawl is unique and plays with Red Heart Roll With It Sparkle. The yarn is long self-striping and creates a beautiful mixing of colours as the mosaic appears on the front side.
There is a large repeating going on and the tutorial is going through each row carefully as we read the diagram, then do it.
This yarn does sparkle so it can elevate the look. Any medium #4 weight yarn would work as well.
More Ideas

Tutorial
More Mosaic Patterns
Mosaic