Crochet Granny On The GO Patterns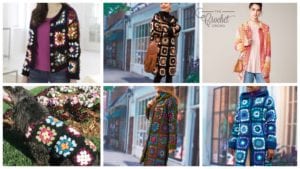 Granny Squares are versatile from blankets to cardigans you can use the granny for just about anything. This collection of jackets is sure to warm you and is one I am enjoying seeing pop up a lot lately online. I included various lengths and of course, I couldn't help but add one for a furbaby that I found.
Having seen the granny in different forms on a few of our favourite shows recently has inspired many to start creating with it, and I love it to the fullest. I can't wait to see all the colour combinations and creations you all come up with especially if someone does one for themselves and a matching one for their fur baby.
---
Granny Square Jacket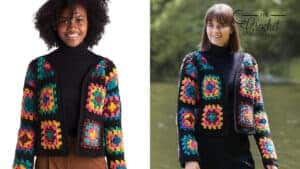 The Crochet Granny Square Jacket is from extra small to five extra-large. It is made up of squares, two triangles and depending on the size may have half squares.
Using the new Red Heart Super Saver O'Go with fun colour play. I made a crochet tutorial but some basics you have to understand on how to follow the schematics of assembly. I explain the steps in the tutorial.
DOWNLOAD CROCHET JACKET PATTERN
Tutorial
https://youtu.be/joUb4EgQugM
https://youtu.be/Mfsf1LtO81w
---
Crochet Granny Square Jacket Pattern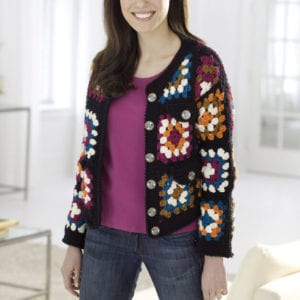 If you are someone who saw the longer version of the crochet jacket and thought that you would rather have a shorter version. This Crochet Granny Square Jacket Pattern may be more of what you are looking for. If you wanted something a little bit longer like a blazer length you could easily add another row of granny squares to the bottom before doing the final rounds.
This will be a super cute little sweater if you work in one of those offices that always seems cold, Using your favourite colours to go with your favourite spring outfits!
This Crochet Granny Square Jacket Pattern was Designed by Kim Kotary using Red Heart Soft, there are some really pretty colours in the Soft so any colour you choose, this Jacket will be lovely.
DOWNLOAD BUTTON JACKET PATTERN
---
Crochet Directional Granny Jacket Pattern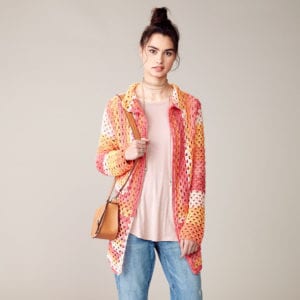 This one is a little different from most of the other Jackets, in that it isn't a bunch of smaller squares, it's instead worked in one larger style. It's a very pretty and lighter jacket, making this Crochet Directional Granny Cardigan Pattern lovely for warm spring or a slightly chilly summer evening when you just want a little something on but not a big heavy jacket. or you could easily make it in a heavier yarn which would make it much warmer.
The Crochet Directional Granny Jacket Pattern was made in Caron Cotton Cakes, one of my favourite yarns to work with. Keep in mind when making the pattern that when it was written it was for the old cakes that were much smaller, you may have to do a little math to find how many of the smaller balls are in a large one.
---
Crochet Glam Granny Coatagain Pattern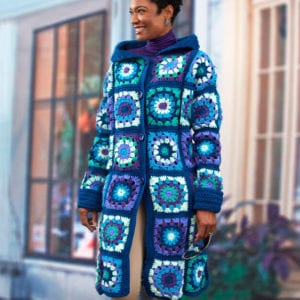 So if you haven't been able to guess already I am a huge fan of Granny Square. It should surprise no one that I absolutely love this Crochet Glam Granny Coatigan Pattern. The colours used in this pattern are so very lovely together.
The Glam Granny Coatigan is made with Red Heart With Love the yarn is so soft and pretty when it's worked up. Designed by Heather Lodinsky this pattern looks so pretty worked up, a lovely friend of mine Michelle made a Coatigan pattern very similar and it was so pretty. I was really happy to locate the pattern now the hard part is deciding what colours I want to use… one of every colour wouldn't be too much, would it??
---
Crochet Sweater Coat In Grannies Pattern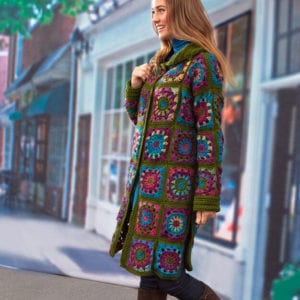 This Crochet Sweater Coat In Grannies Pattern is absolutely lovely. I love the look of the mix of the solid and variegated yarn together in this pattern. It has a bit of a watercolour feel to it, and I enjoy the look of watercolour. I'd like the try this by changing the solid colours to either white or black to see how much it changes the look of the jacket.
The Crochet Sweater Coat In Grannies Pattern was Designed by Heather Lodinsky and made using Red Heart Soft and Red Heart Unforgettable, I love the look of these two yarns worked together in this pattern.
In darker colours it makes a lovely fall jacket, in lighter colours, it would make a lovely spring sweater jacket. I really want to give this one a try every time I look at it the more I love it!
---
Crochet Coatigan In Grannies Pattern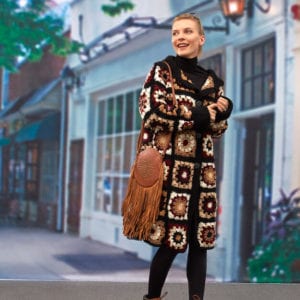 There is a pattern very similar to this Coatigan in Grannies Pattern that I have seen pop on my Facebook non-stop for the last little while, and truthfully it is what prompted me to try to see if I could find the long granny jacket patterns for you all. It is a very pretty jacket so I can totally understand the desire behind everyone wanting it. If I wasn't obsessed with the Sweater Coat In Grannies and wanting to make that I would likely be attempting this one too.
The Crochet Coatigan In Grannies was Designed by Heather Lodinsky using Red Heart Super Saver, she was inspired by a designer Coatigan that she saw. It is a really lovely pattern, and it will be fun to play with the colours there are all kinds of colour combinations to play with.
---
Crochet Dog's Granny Square Sweater Pattern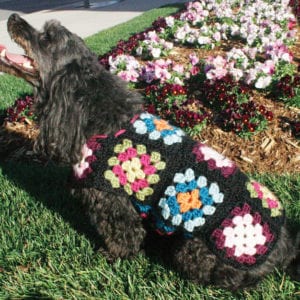 I absolutely could not help myself, this insanely cute Crochet Granny Square Sweater Pattern had to be included in this collection too. Fur babies need to be stylish too and if you are making up one of the Coatigans for your self it only seems logical to make one for them too!
Sharon Mann designed the Crochet Granny Square Sweater Pattern. It was made using Red Hear Soft, I feel like this would be a great craft show item, you really don't see a whole lot like this at craft shows, at least not here so there is a lot of potential!
Whether for shows or for your fur baby, or even a gift to a grand fur baby this little sweater is just too cute to pass by.
---
Pattern Suggestions
More Granny Square Ideas