8 Easy Peasy Crochet Patterns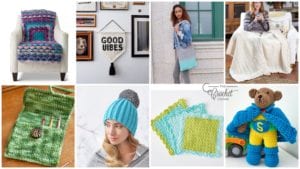 Looking to use up some of those oddballs stored in your basket or closet?  (confession )Yeah, I'm totally talking about me here too. I have plenty of unused balls laying around with no project for them to be. With staying inside, it's time to discover those oddballs and use them for an easy peasy project.
I like patterns that aren't an overly complicated project. A downtime project. Like a break in between that big WIP that's taking you forever.
This is a random collection of patterns designed to pass the time, maybe do something oddly different that you would never do. They will make you happy leaving you to create your next project… Bonus, it could just clean up that closet of yours! Happy Hooking and let's start using up those balls!
Pattern Suggestions
---
Crochet Super Hero Bear Set Pattern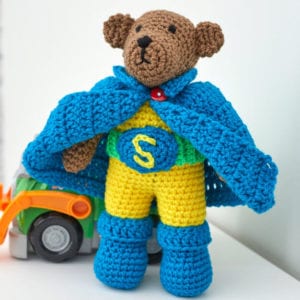 Be the superhero. This Crochet Super Hero Bear Set Pattern is a great little project for your little one. Creativity is endless. Change the colours and give it a new name inspired by your child's imagination of their superhero. Superheroes come in all sizes, colours and missions.
Michele Wilcox designed this adorable Crochet Super Hero Bear Set Pattern using Red Heart Super Saver, but you can use any worsted weight yarn you have around for this pattern.

Crochet Easy-Fit Ribbed Pompom Hat Pattern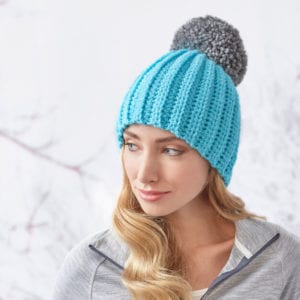 I recently worked up this hat and really enjoyed the pattern. It can easily be made while watching tv. That is, not having to concentrate on what I was doing. I just put a stitch marker where the stitch changes and away I went. This Crochet Easy-Fit Ribbed Pompom Hat Pattern is the first hat I grab on the way out the door. For my hat, I decided to used two different yarn of the same thickness that I really liked together. (because the hard part is choosing. Creativity is fun so I said  'frig it, I'm using both'!) LOL. To top it, I added the largest (fake) fur pompom I could find. It's truly is my favourite hat. AND YES! I love my POMPOMS!
Designed by Heather Lodinsky, this hat is so easily adaptable to any head size regardless of how big or small your head is. This is also a great craft show hat where it's so easy quick to make and adaptable.

Scalloped Crochet Dishcloth Pattern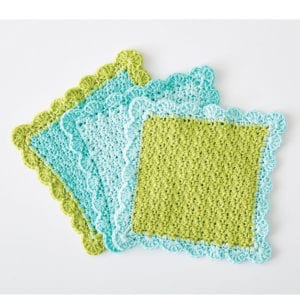 A great quick and easy peasy little project is this Scalloped Crochet Dishcloth Pattern. Dishcloths don't take long and are very useful around the house. We have plenty of different dishcloth patterns on this site. Just go to the search box and type in dishcloths. I love doing dishcloths because it gives me a new skill to learn new stitch combinations. Plus, I can finish something quickly and use up that big ball of cotton laying around. It's a mindless time waster.
If you make these Scalloped Crochet Dishcloths for the kitchen or bathroom, use cotton only. Dishcloths can be used to go under plant pots or anywhere you would like to protect your surface from water. I like having one beside me to put my tea on.  You just never know what kind of mess might happen.

The Case For Crochet Hooks Pattern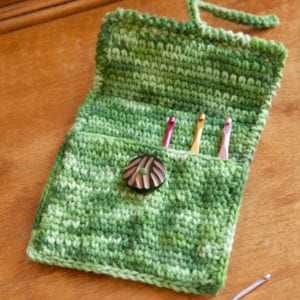 We all need a crochet case. This is one project I didn't know I needed until I saw it. Truly, a crocheter should show how much they love crochet by whipping out their little home-made crochet case for all their hooks. Like my husband, who makes wood cases for his wood tools.
Easy and Peasy this Case for Crochet Hooks Pattern its a great way to keep better tabs on your hooks. I like to hang mine on my favourite crochet chair. I think all of us, at some point, have had hooks hidden all over the house… though that could just be me.
Designed by Kim Kotary, she made this Case For Crochet Hooks using Red Heart Super Saver. You can use any of the worsted weight you have around the house. Make it in your favourite colours, make a few for your favourite crocheters in your life, this is a lovely gift.

Easy Spilt Crochet Tote Pattern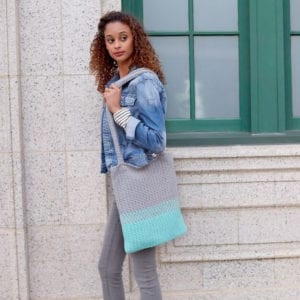 It's hard to be modern and trendy when you have kids but I would totally dig this Easy Split Crochet Tote Pattern for an everyday bag. I would even line it with fabric I have stashed for a project just like this. This is truly a mindless project while watching Tiger King on Netflix.
With plastic bags quickly becoming a thing of the past, making yourself some market bags to have in the car or by the door is a good idea. Plus, it's a conversation piece when you meet another crocheter. You never know, maybe they know The Crochet Crowd too.
Designed by Bendy Carter, she used Red Heart Scrubby Smoothie. Personally,  I have never seen this yarn as we don't have it in Nova Scotia that I have noticed yet. If you have some cotton at home, that could be a good replacement. Give this one a try, make sure you post photos on Facebook, I'd love to see what colour combinations you come up with!

Good Vibes Crochet Banner Pattern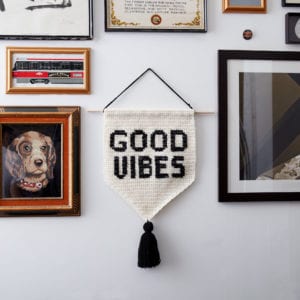 We all need some Good Vibes. Why not make your own vibes with this cute little wall hanging pattern. Hang it where everyone can see it so they can remember to give you some along the way! Wall hangings are becoming trendy. Staying at home, you might as well do some house decorating too.
This Good Vibes Crochet Banner Pattern was made using Bernat Super Value. You can easily use any worsted weight you have on hand right now. If you understand how the crochet writing works, you can create your own saying, Such as 'Heart Home', 'Love is the Way', or something funny. Make this banner in your favourite colours or something to match your decor.  The lettering can even be in rainbow colours. And don't forget, always give Good Vibes to everyone!

Crochet Snowbound Throw Pattern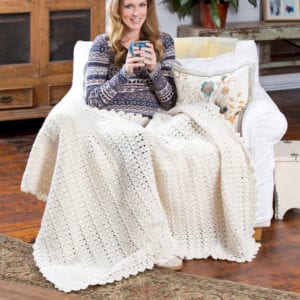 This throw is such a simple yet timeless throw. It's so pretty in any colour that you choose to make. Whip up this  Crochet Snowbound Throw Pattern in one solid colour or start using up that leftover yarn stash. The border is very pretty!
Designed by Roseanna Beck using Red Heart Super Saver, you can easily use any yarn you have in your stash for this blanket, just adjust your hook accordingly. If you're looking for a simple yet pretty blanket for a wedding gift, this would be a good choice.

From The Middle Crochet Blanket Pattern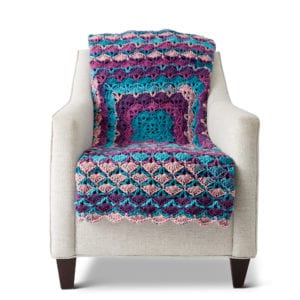 Made with Caron Chunky Cakes, this blanket is easy and extremely easy project that works up really quickly once you have the repeat down pat. This From The Middle Crochet Blanket Pattern can be made with any chunky weight yarn if you don't have Caron Chunky Cakes on hand. You can also use Bernat Softee Chunky.
This blanket has been a hit with the Crochet Crowd. Because you are using a chunky yarn, it does work up fast. We love the scallop look to this blanket.
Make this blanket for yourself or for a gift. I'd love to see photos of your finished projects.

More Crochet Patterns to Consider