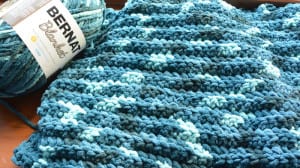 Crochet Weighted Blankets
Blankets and calm and soothe a person. These blankets have weight to them which can create relaxed sleep and comfort.
I didn't give it too much thought that I was enjoying better sleep until I stumbled across an article on the internet about weighted blankets.  It was the first time that I had ever heard that term, so it caught my eye.  What I learned is that heavy weighted blankets can help people with Sensory Integration Dysfunction (SID).  This is a condition that can be associated with autism and learning disabilities.  The weighted blanket has a soothing and calming effect that can possibly help people with this disorder.
Well, the more I thought about it, the more I realized how true this can be.  My son has ADHD, his foot never stops moving, and yet he cannot sleep unless he is wrapped from head to toe in a heavy blanket, no matter the time of year.
Then I remembered being young myself and piling blankets 6 deep on my bed each night.  Not because I was cold, because it just made me feel secure.  It was only recently in life when those dreaded hot flashes began that I started not sleeping with extra blankets.  Maybe I'll keep piling on the blankets and just turn that thermostat down more in the summer.
To me, nothing says love more than a hand-crocheted blanket.  I am currently working on two made with the Bernat Big Blanket yarn. The teal one above is a simple single crochet in the back loops only (an idea inspired by another Crochet Crowder).  The other blue one is the Tunisian Honeycomb blanket.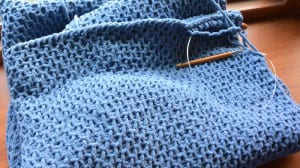 Who needs a weighted blanket in your life?
Be creative! 🙂 – Jeanne – The Crochet Crowd
More Crochet Collections to Enjoy