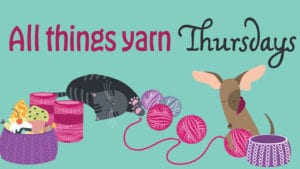 Crochet All 'Things' Yarn Thursdays
On Thursdays, it's an opportunity to showcase your work even more. Even better, showcase items you feel most proud of.
Some of the best work I have ever done are things I created without a pattern. From the Crochet nutcrackers to the Crochet Carousel and even Ferris Wheel.
Share Your Creativity with Our Communities
Share your creativity on our Facebook of show'n tell of patterns you have finished or created yourself. For those who are designers, please don't use our platform to self solicit.
The Crochet Crowd Stitch Social

Instagram #TheCrochetCrowd
#Yarnspirations & #LetsStitchTogether
Feel free to hashtag us at #thecrochetcrowd when using one of our patterns, videos or concepts talked about on our social media pages. We would love to see what you are up to. You can also use #Yarnspirations if it's one of their patterns or inspiration and for community social interaction, you can use #LetsStitchTogether.
Live Feed Below in Real-Time
[instagram-feed]
Pattern Suggestions
Even More Ideas