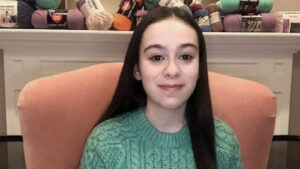 Yarnspirations welcomes 13-year-old Shayna Rose to the team of inspirational people this year.
The Stitch Ambassadors, like me, and part-time yarn lovers like Shayna are given free choice by Yarnspirations to decide what fills their bucket of creativity. Film or in Shayna's case, report, when she can on her own schedule. Keeping in priority her schooling and life's ambitions with our interests and hobbies too.
Shayna is interviewing Julia in this video. Julia is one of my design mentors behind the scenes. Easy to chat with and truly inspirational with me. Excellent sense of humour.
Shayna and Julia eventually speaking about projects and has patterns she did that she shows Julia. The patterns showcased are in the link below with Shayna's choices.
Shayna's pretty on top of things here, she makes Julia think about answers and I love it. It's truly authentic in answers as I know Julia. I learned a lot during this interview with Julia spilling secrets in design and more.

Interview
More Ideas
More Collections