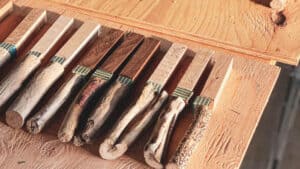 I recently discovered through a friend these handmade crochet hooks made right here in Nova Scotia with driftwood. I was captivated by them as I walk the beaches here and the driftwood is visually amazing.
The idea that someone thought to collect the wood and make hooks is really amazing to me. They have a great backstory and are here where we live. We've never met them but I just discovered them online and decided to invest in them with a purchase.
Created by KnitBrooks. You can buy pre-made hooks that are ready to ship or pre-order the hooks where you can choose how the hook will look. From the wood types and colours. I found the transaction easy to manage.
I was so inspired, I ordered three hooks and I am super excited to get them. I got a 5.5 mm, 6 mm and 6.5 mm hook. For our friends in the USA that is an H, I and J. Kelly and Scott do ship beyond Canada.
To me, this is handmade and collector-worthy. Sure, you can buy a $5 to $10 hook at the craft store but this is by a wood artist and appeals to me a lot. Even if it's a decor item for my office.
It's a piece of home in an item that means something to me personally. For the record, I am not endorsing the owners nor is this a paid review. I am sharing this with you just in case this appeals to some of you. We don't use affiliate commission links so there's no financial benefit to me to share this. This may be something worthy for gift-giving and they need time to create your personalized hooks for you. 
I'm going to add these to the gifts to give crocheters. They are gorgeous and very unique. I'm so excited to get my hooks.
More Ideas
More Collections