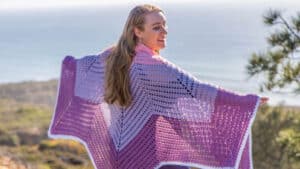 Nicole Riley, a cutting-edge crochet designer in front and behind the scenes of the yarn industry is our feature today. Based out of the west coast in the USA, she brings with her incredible passion for designs.
How I Learned of Nicole
Nicole came onto my radar several years ago when a crocheter updated on The Crochet Crowd Stitch Social about burning and nearly set fire to a crochet bowl holder inside her microwave that was suggested on a pattern. It immediately set my four-alarm urgency to find where this design was and who was the designer to inform them that harm could be caused. I was able to contact Nicole, in real-time, and ask her to reconsider her article of suggesting it for the microwave. Nicole was receptive and conscientious about presenting a pattern where it could cause physical harm. Though she had tested it, she felt safe about it, she was pretty lucky in her testing, in retrospect.
My grandmother's apartment complex was set ablaze with a microwave fire. So I was very concerned. My grandmother never got over it as she lost possessions that she had for a lifetime.
Contacting a designer with a concern isn't something I do lightly as I tend to stay in my own lane with little contact with other designers. So I was expecting the response to be a shoulder shrug. Nicole was incredibly professional and understood the concerns and pivoted immediately. That is what humanity and a person of character look like. 
Nicole Riley is Socially Rounded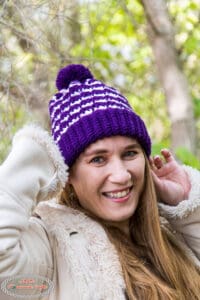 Nicole's content appears in many more places than the average crochet designer. Let's face it, she's not average… she's really like a multi-tasking human with a little bit of this and that. I honestly don't know how she keeps track of it all. 
She's been published in places like Simply Crochet, Happily Hooked Magazine, WeCrochet, Lion Brand and Furls Crochet. In fact, she is currently the ambassador of WeCrochet and Furls Crochet Hooks.
Speaking first hand, Nicole known on YouTube as Nicki's Homemade Crafts is relatable and authentic to the craft. Loaded with projects and tips to suit your educational needs.
Nicole straddles the world of crochet from a free and paid concept. It's a myth that a crochet host can live off of the monetization on its own on YouTube. The cost to create content is a real thing. She has her own Crochet Club which directly gets access to PDF Patterns and weekly live tutorials directed at her community.
You can access the free content on YouTube for those on a budget and for those who wish an elevated experience, you can be part of her Crochet Club which helps her keep the train on track. Supporting a designer to create is a great thing.
Example of Nicole's Videos
Most Popular Tutorials:
Nicole's Most Popular Patterns:
Final Notes
Nicole has accomplished many things in the crochet field but she strives on one major element that I couldn't get my hands around, that's the idea of being diverse in content distribution. I struggled with the concept of trying to work with many companies at the same time. Each has its own flair and guidelines which can be complex.
It's amazing and brave at the same time. I tried this for a short time frame and I found the companies to be super competitive and myself being in a tug-o-war of my time. So that's a major accomplishment, all to itself.
Check out Nicole's work, you may be glad you did.
Find Nicole On Social Media
More Ideas
More Collections